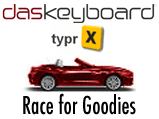 It's time to give away some more Das Keyboard goodies. This time we're interested in seeing how fast you type. Don't worry, though, you don't have to be the fastest typist to win this contest. Just go to app.typrx.com and participate in a race. When you complete the race, your typing speed will display next to the racing car that represents you. Take your typing speed, replace it in the following sentence and tweet it for your chance to win.
I typed 99wpm at app.typrx.com! Win Das Keyboard swag by racing & re-tweeting this with your speed. http://bit.ly/pTfV2T.
We'll randomly select 2 winners each day from the previous days tweets. Make sure you are following us on Twitter as we notify winners by sending them a direct message on Twitter. Winners will receive a t-shirt, stickers, notepads, pens, and magnets. Get racing as this contest ends September 2nd, 2011.