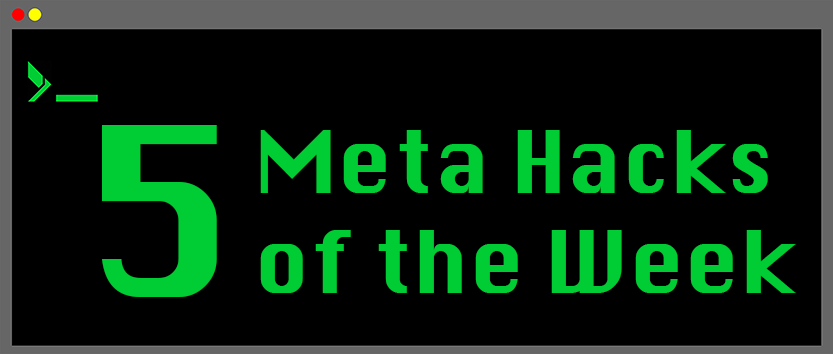 Greetings dear friend,
Still in the midst of the Holiday Season! In addition to your normal work schedules, you may be coping with shopping for gifts, making and sending holiday greetings, attending a plethora of seasonal parties, cooking special meals, and traveling or hosting a holiday meal. If you have any ideas on coping with the busy holiday season or ideas on inspirational books, games, or movies that you want to share, go ahead and send them here. I'd love to hear about them, and share them with the community. And if you know of anyone who would appreciate Meta Hacks like the ones this week, go ahead and have them subscribe here.
Here are my 5 hacks for this Holiday week.
1. Limit Your Commitments
Time is especially scarce this time of year. As you're getting out of work for the holidays, make sure you've tackled everything you need to, so you aren't stuck working over the holiday. Get ready for guests ahead of time, and prioritize what you actually need to do. Tip: you don't need to go to every party or get a gift for every acquaintance.
2. Avoid Stress When You Travel
There's no place like home for the holidays. However, getting there can be a hassle. Be flexible. Resist the urge to plan every minute of your vacation. Get quality sleep. Rushing to get everything done before your vacation can leave you worn out.
3. Give Experiential Gifts
Spending money on other people makes us feel better than buying things for ourselves. However, picking the right holiday present for everyone on our list makes us anxious. Many recipients appreciate experiential gifts more than material items. Movie tickets, a pass to a dance class and other experiences might be better alternatives to shirts, posters and wine aerators. That's because experiential gifts evoke greater emotion than material ones and it's that emotional intensity that makes us feel more connected to the giver.
4. Give the Gift of Time
People feel happier when they spend money on time-saving services (like housecleaning or grocery delivery) than on material items such as clothes and wine. Gifts of time-saving services — like a week of take-out meals or babysitting — might make nifty holiday presents.
5. Gifts to Charity
Giving to charity makes you happy, especially if you believe your contribution will have a positive impact. Contributing to organizations with a specific, well-defined purpose and which routinely report back to donors on how their funds will be used have been associated with higher levels of happiness. See if that works for you.
Daniel, Founder & CEO
Metadot / Das Keyboard / Mojo Helpdesk