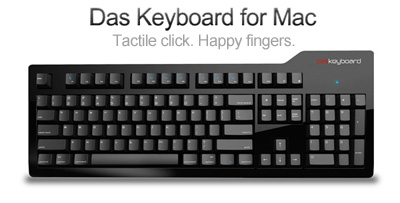 We are excited to announce the Das Keyboard for Mac. We received emails, tweets, and posts on our Facebook page from Mac users around the world begging us to make a keyboard just for them, and we had to accept the challenge. You can now enjoy the tactile feedback of Cherry MX Blue switches on a keyboard designed specifically for the Mac.
In addition to the award-winning Model S design, we've included the following features:
Best-in-class mechanical gold-plated key switches
Special keys
Brightness controls
Sleep function
Mac keys
Built-in USB hub
Ability to sync & charge your phone quicker
Extra-long USB cable
6-key rollover
We are offerring 15% off all pre-orders for the Das Keyboard for Mac. Full retail price of $133 begins April 16, 2012. We have a limited quantity available for immediate shipping, and these will be sent on a first come, first served basis.
Learn more about all of the features of the Das Keyboard for Mac and pre-order now.