2019's Christmas Delivery Cut-off Dates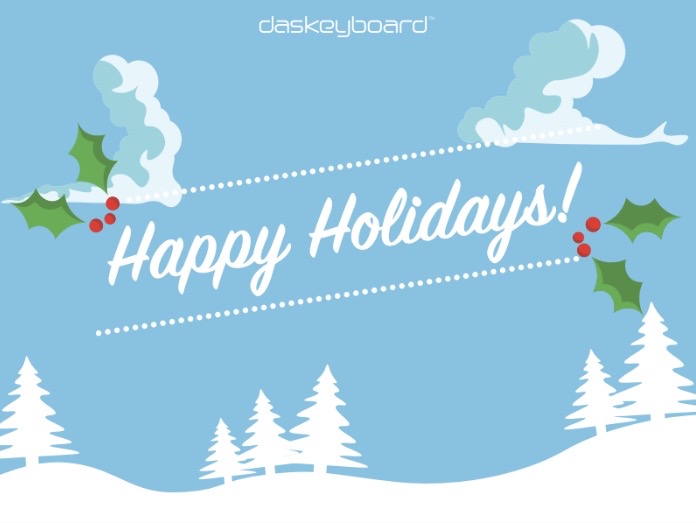 The holidays are always a busy time, but this year may take the cake (fruit cake, that is).
Looking for a last minute gift? Das Keyboard has you covered with these printable gift cards if your keyboard won't arrive before Christmas:

You deserve a vacation, now you can ESC whenever you want!
You probably wanted a new car, but at least you'll have a new set of keys!
Now you'll be able to take Ctrl of your life!
Using these gift cards is simple, just 1. print out the card of your choice 2. fold the vertical line 3. fold the horizontal line 4. fill in the keyboard you are gifting 5.sign and deliver!
If it seems like there just hasn't been enough time for everything and everyone on your nice (or naughty) list, it's no coincidence. With Thanksgiving landing late this year on Nov. 28th, 2019 will see the fewest holiday shopping days (26 to be exact) since 2013.
And now, with Christmas just one week away, you may be worried about your purchase procrastination could mean packages won't make to your loved ones on time. It's a valid concern.
Already, FedEx and UPS are reporting delivery delays due to record shipping volumes and weather caused by a slew of winter storms across the Northeast and Midwest.
For those checking their lists twice, it's always good to refer to shipping cut-off times or holiday cheat sheets to ensure your gifts get delivered in time. Here are the important UPS shipping dates to make sure your gifts arrive before Christmas:
December 18, 2019: UPS 2nd Day Air require an additional day in transit
December 19, 2019: Last day to ship via UPS 3 Day Select to arrive by Christmas
December 20, 2019: Last day to ship via UPS 2nd Day Air to arrive by Christmas
December 23, 2019: Last day to ship via UPS Next Day Air
(Note that Das Keyboard takes 1 business day from the time of order to ship, so if you place an order today, it will go out on the next business day.)
Happy Holidays from everyone at Das Keyboard and Metadot!