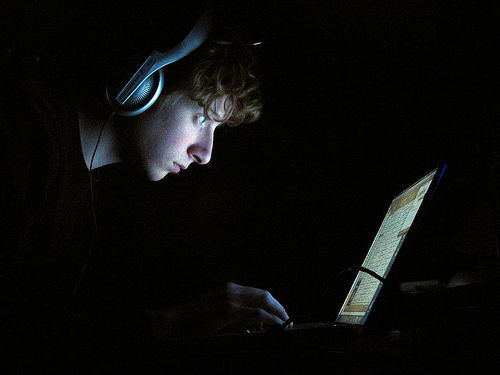 We're not all about keyboards here at Das. We like other things, too.
Like typing.
Sure, it's still technically related to keyboards, but the world of typing is fascinating and has been around since the invention of the typewriter in the 1860's. Everyone wants to know how to type faster and better. Fortunately, there are lots of free online typing games that we 21st-century people can use.
There are lots of games online for you to play, but not all of them are both fun and useful for improving your typing skills. We've picked out 4 of the best ones that succeed at both:
This typing games looks just like Pacman, which makes it awesome by default.
The point of this game is, of course, to outrun the ghost. However, instead of just moving around the maze with your arrow keys, you need to move by typing the letter or punctuation mark that shows up in the direction you want to move.
Why's this so hard? Because you're not spelling out any specific words; you're just typing random letters and marks, which really works your knowledge of key locations and makes this one of the best free online typing games around.
If you love ninjas, this could be one of your favorite free online typing games.
In this game, you are training to become a master keyboard ninja, and you're in your final stage where you must slice all the fruit thrown your way by typing the letters that show above each piece. You can also slice ice cubes to help slow down the rate of the flying fruit.
But you have to avoid the bombs your trainer is throwing at you, too, or the game's over. And did we mention you're a monkey?
Best. Title. Ever. (And yes, there's apparently a ninja theme going on here.)
Instead of being a monkey like you were in the previous game, you're a half cat, half ninja (most likely a French one at that, because you start off fighting in various locations around France). Your goal is to save the world from zombie dinosaurs by typing the words that appear below them as they race to attack you.
The words are pretty common, but the dinosaurs come at you quickly, so you need to know how to "defend" yourself. Be careful to not type the wrong thing, either, or your accuracy goes down.
There's no shortage of free online typing games, but these are just some of the more interesting, fun ones that users of any skill level can enjoy. And as an added bonus, you could try our typing game!
It's called typrX, and the goal is for you to type as fast and as accurately as you can to move your car from start to finish. You can even compete against other players online to see who can type the fastest!
Try out these games and have your friends play them to see who can get the highest scores. Which one was your favorite, and how well did you do?