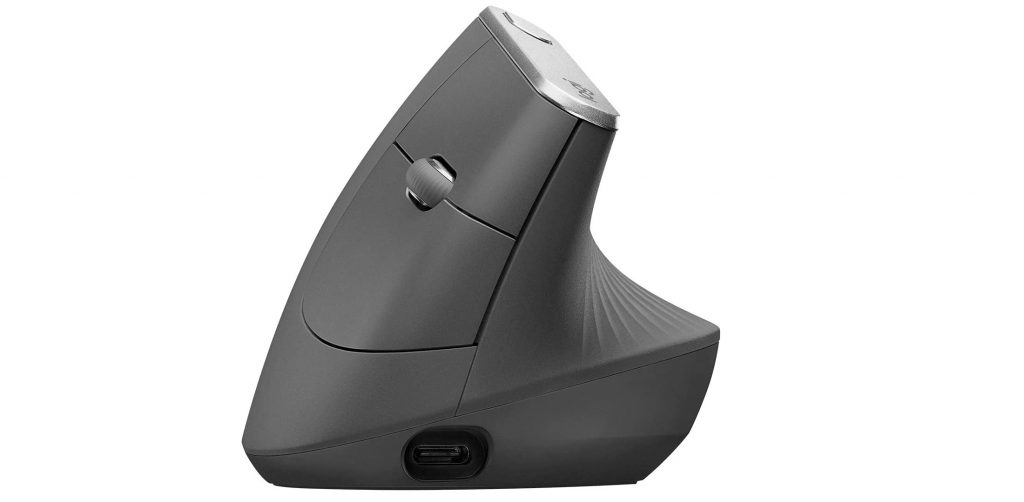 This article is reader-supported. When you buy through links on our site, we may earn an affiliate commission.

Using a vertical mouse or an ergonomic mouse may be more comfortable and cause less strain on your joints and muscles than using a standard wired or wireless mouse with an ambidextrous design. There are right-handed and left-handed vertical mouse or ergonomic mouse options as well which may be more comfortable than a standard mouse. Vertical and ergonomic mice are designed to allow your arms, wrists, and elbows to take a more natural position, thereby reducing muscle strain and reducing the risk or symptoms of Repetitive Strain Injury (RSI), such as carpal tunnel syndrome.
What is a Vertical Mouse?
A vertical mouse allows your hand to be in a vertical position, as if you are shaking someone's hand, instead of your hand laying flat on the mouse. In addition, your hand and wrist are lifted off the desk when you use a vertical mouse which has been known to be a more ergonomic position. A vertical mouse will still contain left and right-click buttons, a scroll wheel. Many models also contain DPI buttons to change the mouse speed, an additional thumb button, thumb scroll, or forward and back buttons on the thumb side.
A vertical mouse can also be used for keyboard and mouse gaming, and while they are not nearly as popular as gaming mice, a vertical mouse will encourage more movement from your elbow and shoulder instead of a standard mouse that uses virtually all wrist and fingers. A vertical mouse will track very smoothly and while they may take a while to get used to, they have been designed to reduce strain on your joints and muscles and have also been used to reduce pain associated with carpal tunnel syndrome. If you are experiencing any discomfort, strain, or pain in your wrist, fingers, or forearm, a vertical mouse might be an ideal solution.
What is an Ergonomic Mouse?
While a vertical mouse is still considered an ergonomic mouse, there are many other designs of ergonomic mice that are not vertical, such as a semi-vertical mouse, an angled ergonomic mouse, trackball mouse, pen mouse, or a sculpted mouse. These non-vertical ergonomic mice are also designed for a more natural position and improved posture. Ergonomic mice can also be used for keyboard and mouse gaming while some of them have additional programmable buttons, ergonomic mice have not seen large adoption within the gaming community. 
Whether you are interested in a vertical mouse or a non-vertical ergonomic mouse, there are several options and features to consider such as if the mouse is wired or wireless, mechanical or optical. Because nearly all newer mice are optical and wireless they will comprise all of our suggestions below. The optical, wireless mice below will tend to be easier to use since there is no wire to get in the way or mechanical trackball in the bottom of the mouse that can become slow or unresponsive when it becomes filled with lint and dust.
If you are looking to try a vertical mouse or ergonomic mouse, have a look at the curated list of mice below that have been highly rated by customers. 
OS Compatible Vertical Mouse
Budget-Friendly Vertical Mouse
The wireless vertical mouse by Jelly Comb is budget-friendly and the quality and comfort that you receive are comparatively higher than what you can receive at this price. With this mouse, you can connect up to three devices, and while it is compatible with Mac & PC, the forward and buttons will not work on a Mac. The mouse is highly responsive, which means that it offers a seamless and smooth experience without glitches. This vertical mouse comes with a comfortable handgrip that is soft so you don't feel any pressure in your hand. The buttons of this mouse are responsive and clicky, offering high-quality performance.
The battery life is excellent and can last for more than three weeks on a single charge. It also contains programmable buttons, so you can reprogram the DPI button, forward and backward button, and mouse wheel. It uses software to reprogram the buttons which is free to download. 
Vertical Mouse for Larger Hands
If you have larger hands then you should take a closer look at AUTLEY's wireless vertical mouse. This mouse has a thicker and bulkier design, which offers a comfortable grip for those with larger hands. While its battery does not last as long as some of the others, and can only last a week on a single charge, this budget-friendly has a DPI range of 800-1,600 and is preferred for people with bigger hands. This vertical mouse is compatible with Windows 8/7/10/Vista/XP/2000, Mac, and Linux, although like the Jelly Comb Rechargeable Vertical Mouse the forward and backward buttons will not work on a Mac.
Reliabile Vertical Mouse
If you are looking for reliability while working at home or in the office, then Anker's wireless vertical mouse may be a perfect choice. This ergonomic mouse reduces the strain on your wrists and offers a comfortable grip so you can use it for hours without pain or discomfort. While this is known as one of the most durable options, it does have higher click latency, which may not be ideal for gaming as it could disrupt your gaming experience. 
For Lefties and Small Hands
Contrary to the AUTLEY vertical mouse, the Evoluent VM4L VerticalMouse 4 is great for people with smaller hands. Even though there are limited options of vertical mice for people with smaller hands, this mouse is a great option as it has been designed to be ergonomically correct to promote comfort, especially if you already have wrist pain. In addition, there is also an Evoluent VM4L VerticalMouse 4 left-handed option which is the highest-rated left-handed vertical mouse out there.
Professional Design
The Logitech MX Master 3 has a professional design and clean look. It doesn't have a flashy look and has more of a professional look. It has a durable build, and the latex grip is comfortable and provides excellent control with accurate movement controls. 
Ergonomic Thumb Trackball Mouse
The Logitech MX ERGO Wireless Trackball is an ergonomic mouse with a natural grip that offers excellent movement control. While it is not a vertical mouse, it does have an adjustable trackball angle that tilts from 0 to 20 degrees due to a hinge on the mouse. This ergonomic mouse is a favorite choice because of its compatibility with Windows 7 or later and Mac OS X 10.12 or later, in addition to its excellent performance, providing 512-2048 dpi which is adjusted by pressing the thumb button. Overall, the Logitech MX ERGO Wireless Trackball ergonomic mouse is an excellent choice with a premium feel.
If you are looking to change up your work or gaming setup and want to try something new, then these ergonomic mice options might just be your next favorite purchase. If you are suffering from carpal tunnel syndrome, or want to relieve some of the strain on your pointer finger, middle finger, and/or wrist then a vertical mouse may help greatly. Knowing that after you do purchase a vertical mouse it may take some time to get used to, you may find that once it becomes natural an ordinary mouse is far less comfortable. If you have more thoughts or opinions on vertical and ergonomic mice, feel free to tweet them to the team on Twitter.