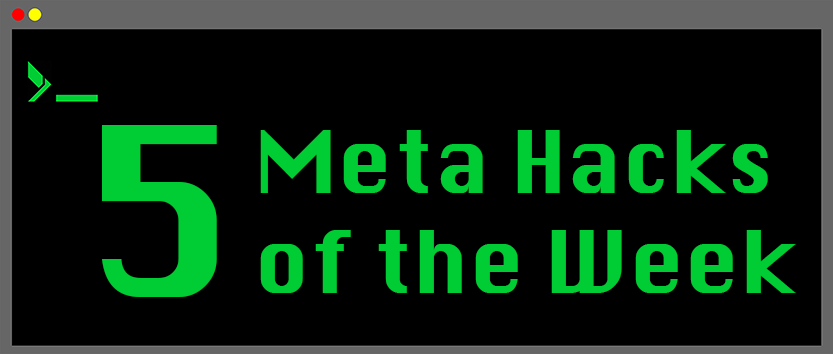 Greetings dear friend,

Last week, we touched on New Year's resolutions that related to career advancement. Since it is still early in the New Year, we will stay on this theme, with some Meta Hacks that relate to wellness. Small, simple changes lay the foundation for major progress and promotions in the future. If you have any ideas on boosting your career or inspirational books, games, or movies that you want to share, go ahead and send them here. I'd love to hear about them, and share them with the community. And if you know of anyone who would appreciate Meta Hacks like the ones this week, go ahead and have them subscribe here.

Here are my 5 hacks for this second week of 2019.

1. Get in shape:
Losing weight is the top resolution for Americans, and combined with "exercise more" and "stay fit and healthy" it is something that over a third of the population wishes to achieve. It's easy enough to start an exercise and diet program, but the trick is to find a decent one that will give you steady results and will be easy to stick to in the long run. Have a look at these tricks, hacks, exercises and mistakes to avoid to make the best our of your resolution.

2. Start eating healthier food, and less food overall:
This is usually an extension of the previous resolution. Switching to a healthier diet can be incredibly tricky when we are surrounded by cheap junk food. However, with a good amount of determination and some basic tips you can slowly develop healthier eating habits. Learn to control emotional eating, be aware of reasons for diets to fail, make use of these tricks and have a look at these awesome and healthy recipes.

3. Give up cigarettes:
A bit of bad habit that a lot of people don't know how to kick, smoking will not only endanger your health, but can burn a hole in your wallet as well. Just be prepared to dedicate a lot of will power to giving up cigarettes once and for all.

4. Watch less TV:
The average person wastes a lot of time in front of the TV, time that could have been better spent developing skills, learning or keeping your body active. Once you manage to cut down on TV time, you will realize just how long and productive a day can really be.

5. Stop procrastinating:
The biggest barrier that keeps most people from reaching their goals is the desire to relax and do something fun instead of working hard. Once you get used to procrastinating it's difficult to snap yourself out of it, so you'll need to put in a lot of work to change this bad habit. There are many useful tips out there to find your way to stop procrastinating. There are also tools which can help you achieve this task.

Daniel, Founder & CEO
Metadot / Das Keyboard / Mojo Helpdesk