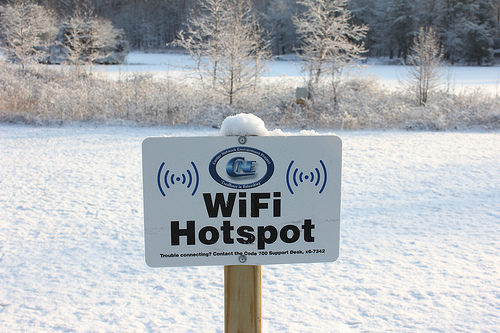 The rest of the country is probably jealous of our temperatures in Austin right now, because it's cold almost everywhere else.
Like, really cold.
Being stuck indoors because of the frigid temperatures outside is not an optimal situation. If you're only going outdoors when you absolutely have to, you're going to have to entertain yourself with indoor options.
Instead of turning on your TV, though, try defaulting to your computer instead. There are several things you can do on your computer to keep yourself entertained (and you'll avoid going stir-crazy with cabin fever at the same time).
Finish a Game/Project
If you haven't had time in the past to complete that game of Borderlands 2, or finish typing up that short piece of fiction you've been working on, now's your chance.
Even if you have to do some chores in the house, you're still likely going to have time leftover (like before bed). Use it to finish whatever you started and never got around to completing.
A few minutes here and there at the end of the day will get you farther than you think!
Start New Games
Similar to the last point, you might have a list of games you've wanted to play at some point.
Well, this is your "at some point."
When you're stuck inside and your games-in-progress don't seem appealing, try starting a new one to keep your brain active. You'll always be able to switch to other games if you find you don't like the one you're trying out.
Replay Old Ones
If you're anything like us, sometimes a bit of retro gaming is just the thing to bring a spark of joy to a frustrating situation.
Remember all those games you used to play as a kid, like Oregon Trail and Where in the World Is Carmen Sandiego? Guaranteed they're just as much fun now that you're older, too.
And many of those games can be found for free online (though you may need to learn how to install a DOSbox to get some of them to play).
Learn a New Skill
Don't know how to install that DOSbox? Maybe you can learn how.
Or maybe you can start to study some HTML or PHP coding, or even look up how to sew new curtains if crafts suit your fancy.
The fact is that there are millions of how-to and do-it-yourself (DIY) videos on YouTube, and you can easily learn a new skill from home with all the time you'll have stuck indoors. Take this time to improve your life in small ways every day; you'll be surprised how much you end up knowing in just 30 days!
Connect with Family/Friends
Couldn't get a flight out to see your family (or maybe you got stuck coming back)?
Try connecting with your family and friends instead via your computer. Skype is the second-best alternative to seeing people in person, and you can do this from the comfort of your warm chair while you're wearing slippers and sipping hot chocolate.
Set up a time to chat, or hit people up when they hop online. It'll be better than waiting in an airport with the runway frozen over.
Of course, you can use your computers in many different ways — you're not limited to the suggestions here. Feel free to poke around on Pinterest, or browse Facebook, if none of these ideas interest you.
Or if you're in a warmer state, you can check out the temperatures in the Midwest and East Coasts and be grateful you're not there. 🙂