With the Das Keyboard Basecamp applet, Basecamp can change the key colors of a Das Keyboard whenever a project is updated.
Basecamp is notorious for being the company that invented Ruby on Rails back in 2003, making it the first application running Rails. Basecamp is a web-based solution that combines multiple tools into a single package. It provides a collaboration platform while keeping the tradition of a simple project management tool. It also helps remote teams work together while keeping an overview of all tasks, schedules, message boards, check-ins (conversations with the team) and files.
For example, every time someone posts a chat in Campfire, adds a message to the board, or check-marks a To-do, the B key will blink in red. Pressing the Q button on my keyboard will show me more information about the notification.
This way, I can stay focused on my work on my PC knowing that my keyboard will tell me when I have an important notification.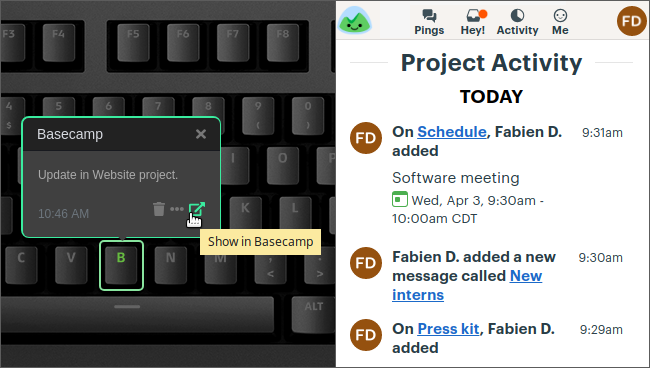 Das Keyboard Basecamp Q applet turns a Das Keyboard RGB Q keyboard into a powerful notification tool to stay on track with all projects.
Das Keyboard Q Desktop applets are open source. Everyone is welcome to contribute and create their own. If you are in the mood for developing your own applets, instructions can be found on daskeyboard.io.
Ready to be on top of your Basecamp project? Fire up your Das Keyboard Q.

Don't have a Das Keyboard Q? Pick one.