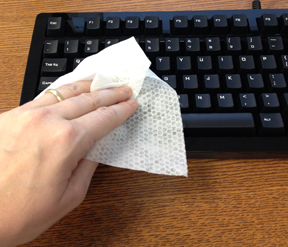 It's not always possible to avoid people who are sick since they will still go to work, to school, or out in public. While hand sanitizer can help, you can't pour it on everything, and that includes your computer keyboard. At work, school, or home, it's not uncommon for someone else to have a cause to use your computer. With scary statistics like the UK study that found a computer keyboard that had 150 times the recommended limit for bacteria, it's important to think about disinfecting your keyboard to avoid catching illnesses.
We know you want to keep your Das Keyboard looking good, which is why we've advised on the best methods for keyboard cleaning. Some chemicals can damage the plastic or leave a hazy film that leads to instant cleaning regret. Because of this, we tested a few wipes to see how they would impact the Das Keyboard.
When testing the disinfectant wipes,  we squeezed any extra liquid out first and then wiped down both the keys and the case. We then wiped down the area with a dry micro fiber cloth. After letting it sit for a week, we did it again. The only issue we encountered was lint left behind by the disinfecting cloths. Finishing with a dry micro fiber cloth not only dries the keyboard, but also helps clean up the leftover lint.
For our tests, we used antibacterial hand and face wipes, and disinfectant wipes that primarily contained ammonium chloride or benzalkonium chloride. Keep in mind our tests were specific to Das Keyboard, different keyboards use different types of plastic and some are more sensitive to chemicals than others. Always check with the manufacturer before using any chemical on your keyboard.
We didn't ruin any keyboards in this test, but recommend the following tips if you try this yourself:

Unplug the keyboard before disinfecting it.
Squeeze out any excess liquids from the cloth to avoid liquid dripping into the keyboard.
Don't let any liquid from the wipe sit for long periods of time on the keyboard.
Don't scrub the keyboard, just lightly wipe down. Rubbing too hard leaves behind more lint.
Avoid cleansing cloths that contain bleach.