Whether you have been touch typing for years or are just learning the basics, many have a desire to measure and raise their typing speed. Because of this, there is a community built around competitive typing, with members competing against both themselves and others to be the best they can. This community's members range from those just starting their journey to becoming a fast typist to the very greatest in the world. While there are a considerable number of typing websites around, the community congregates around three main ones.
The first typing website frequently used by the competitive typing community is Type Racer. This website has been running since 2008 and has a somewhat dated design. Regardless, it still provides one of the best ways to compete in typing. In races, you are matched up against several other people from around the world. You will be shown one of many thousand texts, (ranging from short sentences to long paragraphs) and will race to type it first. In order to complete the match, you must type everything correctly, meaning that if you make a mistake, you must backspace and fix it. While this makes it difficult to reach as high of speed as websites where you are not required to backspace, it makes it the most realistic measure of typing speed.
If you would like to get involved with the Type Racer community, click here to join their Discord server.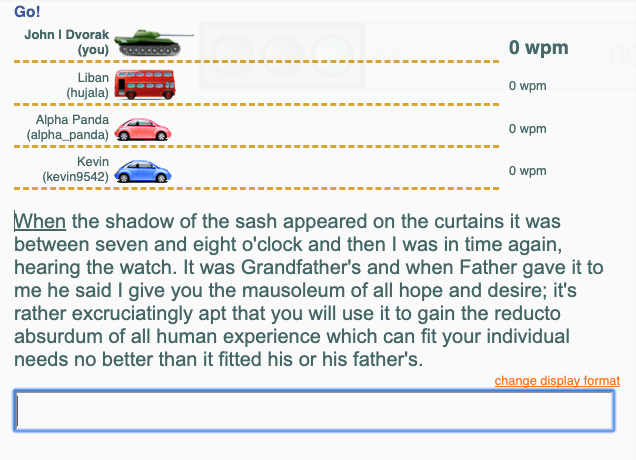 The second website that competitive typists use is 10 Fast Fingers. On this website, you are given random words from the top 200 most common words in your language. You type for a minute straight, meaning that you need to type at your top speed for longer than the other websites competitive typists use. If you make a typo, you do not need to correct it, but you will not be given credit for mistyped words unless you correct your mistake. Because it only uses common words which are generally easy to type, most typists can achieve higher scores on this website. You can either race on your own, or enter competitions that will run for 24 hours and generally have between 50 and 80 entrants. In these competitions, every entrant will be given the same text to type to make it fair. The fastest ever score on 10 Fast Fingers is an astounding 233 WPM, or over 19 keys per second.
If you would like to get involved with the 10 Fast Fingers community, click here to join their Discord server. Enjoy!

The final website typists compete on is Nitro Type. This website is the most popular, with over a billion races having been completed since its creation in 2011. When you enter a race, you are matched up with 4 other typists at a similar speed to you and are given a text that will take you about 40 seconds to type. If you make a mistake, you do not need to backspace in order to correct it, but you do need to type the correct character before you can continue. You can also press 'Enter' to use a nitro and skip a word!
The leaderboards on Nitro Type do not purely revolve around speed, but rather a point system. At the end of each race, you are awarded a certain number of points depending on your speed and accuracy. This means that you do not need to be one of the world's fastest typists to reach the top of the leaderboards if you race enough. You can also join a team with 49 other typists and help your team rise in the leaderboards by racing. If competing against others in this way does not interest you, there are also hundreds of achievements and cars to earn.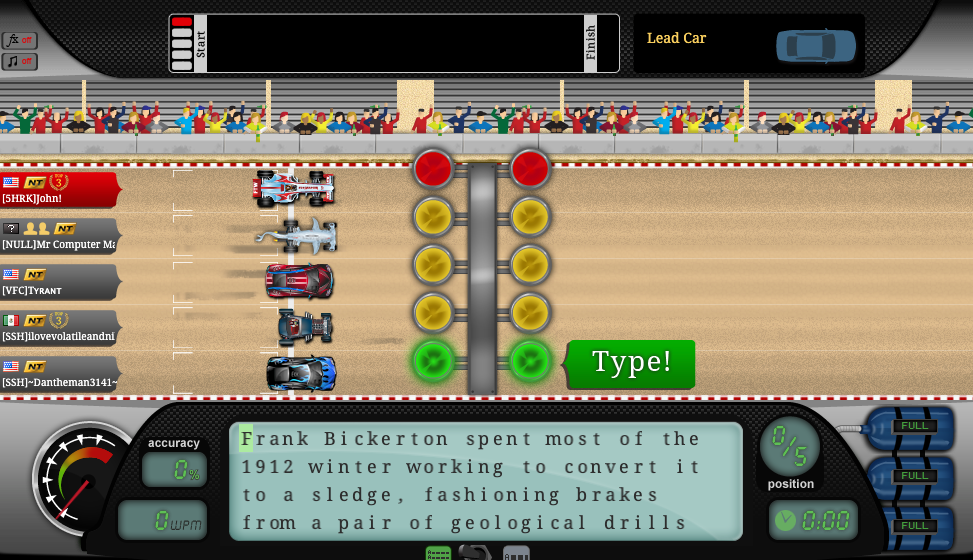 All three of these websites have an active competitive community and frequently host tournaments. The largest recent tournament was called The Clicking Championships 1 (TCC1) and attracted over 100 of the best typists in the world with several hundred more watching it live. It was hosted on Type Racer, and lasted for over 10 hours. Late into the night, a typist who goes by the name Chak emerged victorious and was crowned the world's fastest typist. While tournaments of this scale are not common, there is almost always a smaller one to test yourself in.
In order to get involved in the typing community, it is as easy as either joining one of the Discord servers or starting to type on Type Racer, 10 Fast Fingers, or Nitro Type. If you are at all interested in typing, join today!