Top 25 result, updates to the prizes, competition rules are announced.
After a week-long competition, where the fastest typists the world battled for a spot in the top 25 competition, qualifications have closed. The Ultimate Typing Championship, the search for the fastest typist in the world was announced by Das Keyboard on July 15th, with online qualifications open from August 3rd through August 9th. During the typing competition's qualifications, 180 competitors completed over 94,000 typing tests in an effort to earn a coveted spot in the typing competition and a chance at winning their share at the over $10,000 in prizes.
Results from the Top 25 Qualifications: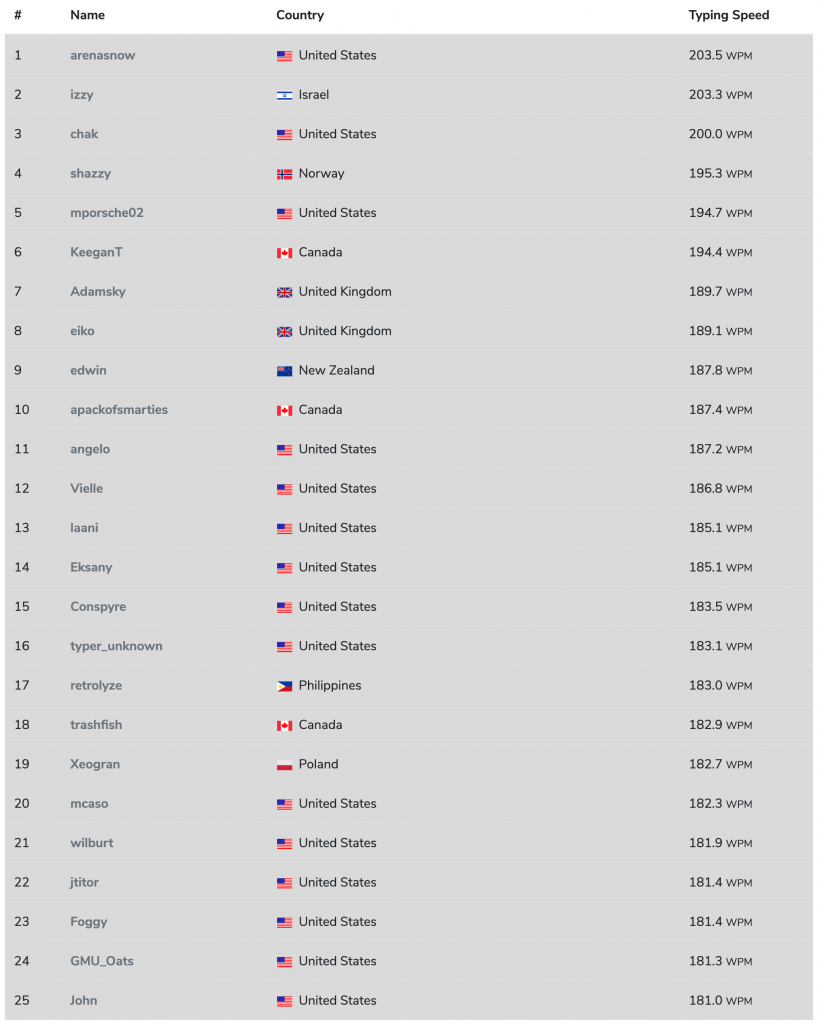 Sean Wrona (aka arenasnow), the first Ultimate Typing Champion decided to defend his title and he was the fastest during this round (#1 above). However, the margins are very tight with just a 0.2 second lead over the 2nd place qualifier, Chak. The qualifying round saw some hard-fought battles, as typists were constantly trying to improve their average words-per-minute scores on their top 30 races. Every day during the qualification round there was a jockeying of position throughout the leaderboard. Qualifications were so competitive that the slowest qualifying typist needed a mind-blowing average speed of 181.0 WPM to make the top 25. Typists who qualified for the competition represent 8 different countries, with 15 typists in the US, 3 in Canada, two in the UK, and one in Israel, Norway, New Zealand, the Philippines, and Poland.
Championship Day Live Stream on August 22.
This is a big day for all 25 contestants, with $10k in prizes on the line and $5,500 in cash up for grabs. After all typing races are finished, one winner will be crowned the Ultimate Typing Champion 2020 and take home the title, and the $5,000 grand prize.
The competition will begin at 9 am CST on August 22nd online. All racers will be racing against each other for the highest points from a WPM * (times) Accuracy scoring system. Points will be tallied for each race and at the end of the top 25 competition, the top 10 typists with the highest scores will move onto the next Championship round, which will be live-streamed on YouTube and Twitch at 12 pm CST, on August 22nd. Viewer prizes will be given out during the live stream and the Ultimate Typing Champion will be crowned.
Don't miss this historic event! If you have never seen someone type at 200 WPM tune in to see the fastest typists in the world compete live.
Prizes
Over $10,000 in various prizes, including $5,000 in cash for the winner, and $500 for the runner-up. See the full prizes list.
Resources
TyprX – Typing race app (used for this championship, you can try for yourself and see how fast you type)