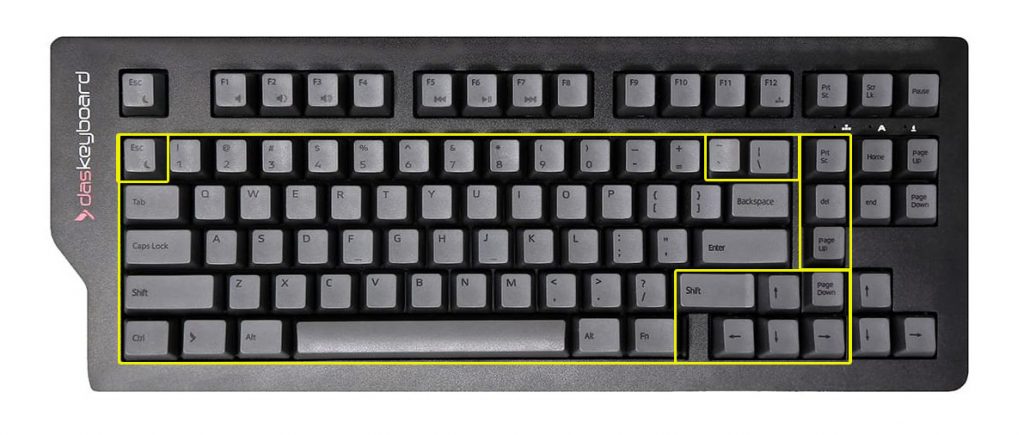 With compact keyboards becoming more popular due to their portability as people begin to work from home and from the office, it can be hard to tell the difference between a 65% keyboard, a 60% keyboard, and a tkl (tenkeyless keyboard). A 65% keyboard has a compact layout that is smaller than a full-size or tenkeyless keyboard, but slightly larger than a 60% keyboard as one might expect. The 65% keyboard has become more popular than the 60% keyboard because it is both compact, and more functional. Some find it more functional due to the inclusion of arrow keys, as well as four keys to the right of the keyboard which will typically be composed of the home, delete, page up, and page down keys.
A 65% keyboard has roughly 65% of the keys a full-sized keyboard has, with a full-size keyboard with a US layout containing 104 keys including a number pad which many cannot live without, while a 65% will usually have 67 or 68 keys depending on the manufacturer. A 65% keyboard will usually have dedicated arrow keys and an extra row of keys along the right-hand side of the board. The keys in the extra row are usually the home, delete, page up, and page down keys, which would normally be above the arrow keys in a full-size keyboard layout.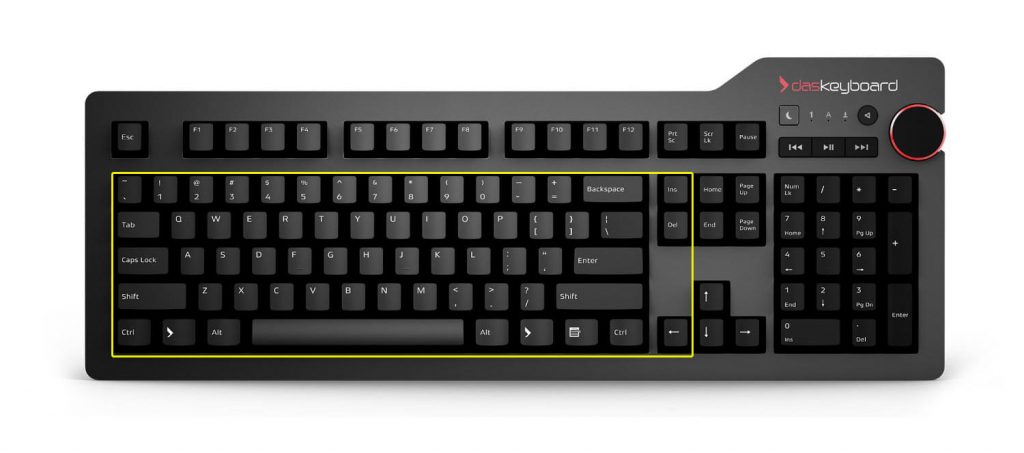 What is the Difference Between a 60% and 65% Keyboard? 


The biggest differences between a 60% keyboard and a 65% keyboard is that a 65% keyboard has four additional function keys along the right-hand side of the keyboard, while 60% keyboards do not. These additional function keys provide convenient access to extra keyboard functionality without having to use the 60% keyboard's programmable layer or designate a custom hotkey for it.
How Many Keys are on a 65% Keyboard?
65% keyboards usually have 67 or 68 keys depending on the manufacturer. Some manufacturers use 1.5u keys between the spacebar and left arrow key instead of using 1u keys. Because 65% keyboards don't have the numpad or the function row, this cuts down on 29-30 keys (depending on if the number pad has the plus key split into two keys). Depending on the keyboard brand, there are also differences in what keys are used in the right side delete, insert, page up, page down, home, and print screen keys. More often than not the page up and page down keys are included, but the rest of these extra keys will vary across manufacturers.
By using software, you can change what your existing keys do in order to make up for the lack of excluded keys that you wish you had. Additionally, 65% keyboards usually lack dedicated media keys. However, these media controls can be added using a program such as Karabiner-Elements to remap what some of the keys do on your keyboard.
Advantages of 65% Mechanical Keyboards
65% keyboards are a great option for people who like the compact layout of a 60% keyboard, but still want dedicated arrow keys, and don't use the function row F1 – F12 or the number pad when typing or coding. Some people have a hard time using the FN- and PN-layer method for their arrow keys on 60% keyboards. For these people, a 65% keyboard is a better option. Even though some people initially may not like how close the arrow keys are to the navigation cluster, most people report that it didn't take that long to get used to. 65% keyboards are also a good choice for those that dislike how a full-size keyboard will make their mouse further away from their hands when typing, due to the number pad on the right.
Many touch typists have moved away from using the number pad in everyday typing, and instead memorize where each number and symbol are on the top row. 65% keyboards have also become more popular among programmers and developers, who have also adopted to the lack of a number pad and function row, and might use macros to program certain keys to trigger predetermined code.
Since 65% keyboards have only one additional row of keys, it's still compact enough for small desks without compromising on features as much as a 60% keyboard. 65% keyboards also provide the convenience of portability for users that have frequent travel requirements, or in a hybrid work environment where one works from home some days, and the office others and wants to bring their keyboard with them.
For those that have become accustomed to function shortcuts, 65% keyboards will fall short for their needs. An even more common complaint about a 65% keyboard is the lack of a number pad, which is very handy when entering numbers into a spreadsheet or regularly doing quick math. That said, with a 65% keyboard one could also include a standalone number pad, but this defeats the purpose of buying a compact keyboard since you were most likely trying to conserve space.
Overall the 65% keyboard is one of the most popular compact keyboard sizes, and likely used as much, or slightly less than the more commonly available TKL. For those that are willing to sacrifice the dedicated number pad and function row for more space on their desk and for their mouse, this may be the perfect keyboard size.