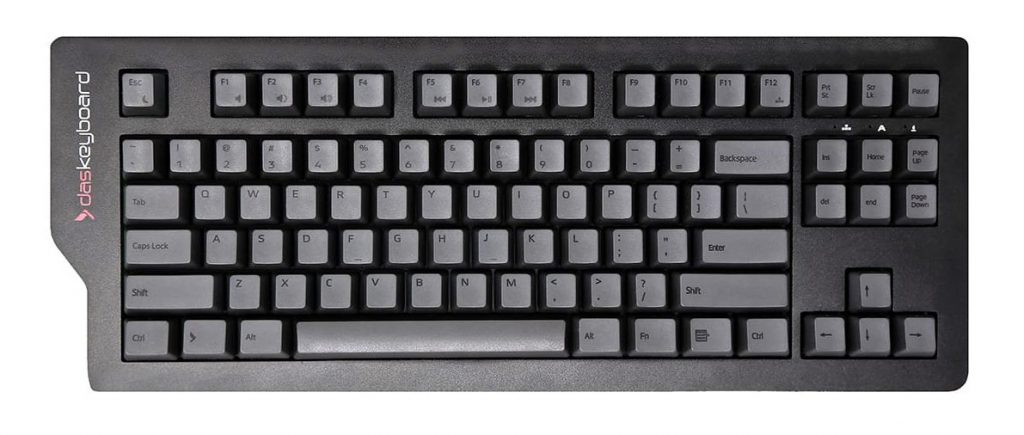 There are more mechanical keyboard sizes and layouts today than ever before which is why you might not have heard of a TKL (tenkeyless) keyboard before. TKL keyboards have become more popular over the past few years as people have adapted to working from home and don't have a large workspace. The compact size of the TKL makes it a great choice without having to sacrifice the more traditional layout vs. 60% keyboard and 65% keyboard sizes that have a more mashed-up layout. This is what makes a TKL keyboard an excellent form factor for those looking for a compact, portable, and easy-to-use keyboard with little to no learning curve.
What is a TKL Keyboard?
"TKL" stands for "tenkeyless," although this term is not to be taken literally. TKL keyboards do not have exactly 10 fewer keys than a full-sized keyboard. Tenkeyless simply means the keyboard does not have a numeric pad. As a result of the removal of the numeric pad, TKL keyboards are smaller and more portable than full-sized keyboards. TKL keyboards may also be called 80% keyboards because they typically have 87 or 88 keys total, which is roughly 80% of the number of keys on a full-sized keyboard depending on the country.
The Differences Between a 65% and a TKL Keyboard?


While a TKL keyboard is smaller than a full-sized keyboard, it's not as compact as a 65% keyboard. For people seeking a more compact option, 65% keyboards also become a consideration, although 65% keyboards don't have the function (F1-F12) keys at the top of the keyboard, while TKLs do. With 65% keyboards, you will have all the letters, numbers, arrow keys, and a basic navigation cluster containing keys such as page up, page down, insert, and delete.
Just because 65% keyboards don't have dedicated function keys doesn't mean they can't offer additional functionality. 65% keyboards replace the utility of TKL function keys with an "Fn" key at the bottom left or right. On some 65% keyboards, by pressing and holding the Fn key and the number rows you can execute functions.
The Difference Between a 75% Keyboard and TKL
The TKL is closest in size to a 75% keyboard but there is one major difference; a TKL has three columns of space to the right of the enter key, while a 75% has a single column of keys. A 75% keyboard also has a non-traditional layout as the arrow keys are moved and the shift and enter keys will usually be smaller. A 75% keyboard contains the function key row, although you typically won't find spaces between each set of 4 function row keys, which allows for an additional key. Some 75% keyboards will only have F1-F10, whereas most TKLs have F1-F12. By omitting the spaces between F4 – F5, and F8 – F9, as well as not including the F11 and F12 keys there is space to include keys like the Number Lock, Print Screen, Scroll Lock, and Pause Break keys.
The Benefits of TKL Keyboards
Since TKL keyboards are smaller than full-sized keyboards, using one frees up more space on your desk for other items such as your phone, a notepad, or a plant. For people that use a claw mouse grip, a TKL is perfect because the mouse will be closer to your opposing hand. This can save time and energy when doing repetitive tasks on your computer and moving your hand from your mouse to your keyboard frequently.
TKL keyboards are some of the best keyboards for gaming because they are smaller than full-sized keyboards but still have the arrow keys, navigation cluster, and function keys. Most gamers don't use a numpad when they play, so the size of the TKL keyboard is reduced without losing gaming functionality (one rare exception being gamers who use the numpad for programming macros). Some gamers turn their keyboards at a 45-degree angle or more while gaming so that the right side of the keyboard is pointing towards the monitor, and the size of a TKL makes this angle look and feel more natural than with a full-size keyboard.
If you are used to a full-sized keyboard layout but want to free up space on your desk, a TKL keyboard is a great option. With a TKL keyboard, you won't need to learn a new layout, and as long as you can live without a number pad you will have more space on your desk resulting in what might be a more comfortable position with the mouse being closer to your opposite hand.  This smaller size also means the keyboard will weigh less and fit into a backpack easier, which will make it better to travel with and enjoy wherever you go!