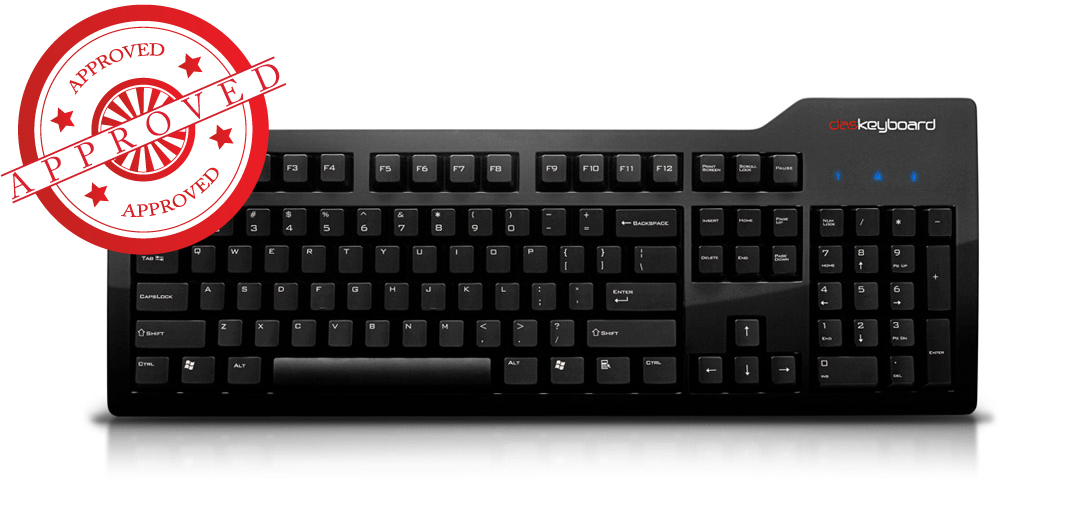 Do you use a Das Keyboard yet? There are many advantages to making the switch, so we have put together a list showing why your boss should buy you a Das Keyboard for your desk.
Productivity = All-Around Happiness
Incredibly fast keyboard response time allows you to complete tasks quickly. The addictive click will inspire you to type, and its intuitive feel makes typing feel like second nature. What boss doesn't want things done by yesterday?
It's Stylish and Versatile
Das Keyboard's sleek look fits with any office design. Each key is laser-etched to prevent fading, so your keyboard will look brand new forever. It's been proven that good office aesthetics inspire quality work and performance. Do you work in a mac environment? We have a keyboard for that! Need a quieter keyboard? We have a less-clicky version. Want to improve your wpm? Try our blank keyboard.
Instant Setup
Last week, a follower named Chris, tweeted to us at @daskeyboard:
Attention every hardware manufacturer ever: learn from @daskeyboard.
(This picture was included with the tweet.)
Sound Improves Mood
Our audible tactile click makes typing joyful. Of course it's hard to describe in a blog post, so you should check it out yourself.
Listen to the difference between our clicky vs. silent keyboards here:
30-Day Money-Back Guarantee & Excellent Support
We want your boss to be happy with his or her investment, so Das Keyboard offers a 30-day, money-back guarantee. Our acclaimed support team is just a click away, located on this page: http://www.daskeyboard.com/support/.
So there you have it: five reasons why your boss should buy you a Das Keyboard. If we had to pick two most important reasons they would be happiness and productivity, because every boss is concerned with getting things done in the best environment possible for their employees.
Send this URL to your boss, and if he buys you one – tweet about it for a chance to win a Das Keyboard T-Shirt.
Think of more reasons why your boss should buy you a Das Keyboard? Leave it in a comment below.
If you don't already, follow us on Twitter and like us on Facebook for more news and updates.