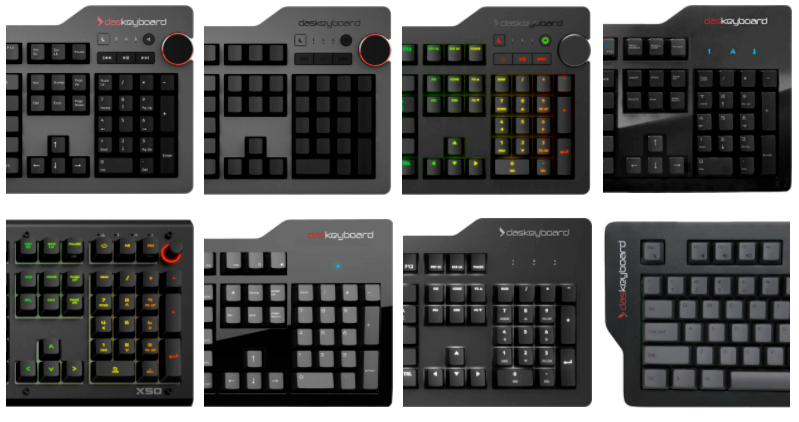 Most people who work on a computer 8+ hours a day use their computer and touch their keyboard more than anything in their lives, including their cell phone. This is one reason that mechanical keyboards have taken center stage recently, as people look to upgrade their workstations and their work experience, improve their typing accuracy and speed, and ultimately become more productive. A mechanical keyboard is a great gift idea for anyone who works or plays on a computer, although a lot of work can go into researching what mechanical keyboard might be the best choice. While there are many preferences that one might have when selecting a custom keyboard, by avoiding delving into the endless debates, opinions, and personal preferences one may have about the features of mechanical keyboards, below are several straightforward tips that will help you select the best keyboard for anyone on your list based on how the keyboard will be used.
Best Keyboard for Beginners
Model S Mechanical Keyboard
If someone is just starting and beginning to learn to use a computer or to touch type, whether that be an adolescent or an adult who wants to improve their typing speed, the most commonsensical thing to do would be to stick to a basic, no-frills keyboard with a great feel for touch typing. There is no need to spend a lot of money on a fancy, light-up RGB or backlit keyboard if someone has no experience with typing or computers. Since they are just starting, they likely don't even know what they like yet, and until they become more familiar with touch typing and using computers regularly, a basic model such as the Model S and Model S for Mac would be the best approach for the new typist. This mechanical keyboard has an extremely enjoyable feel with Cherry MX switches that are perfect for anyone who is learning to type. Also, the Model S has a 2-port USB hub so the typist can charge their phone or plug their mouse into the hub while they practice typing. Selecting the softer and quieter Cherry MX Brown switch would be a prudent choice, as the much louder, clicky Blue switch is likely more common with people who are familiar with mechanical keyboards and want that added psychoacoustic sensation.
Best Keyboard for Programmers
4Q RGB Smart Programmable Mechanical Keyboard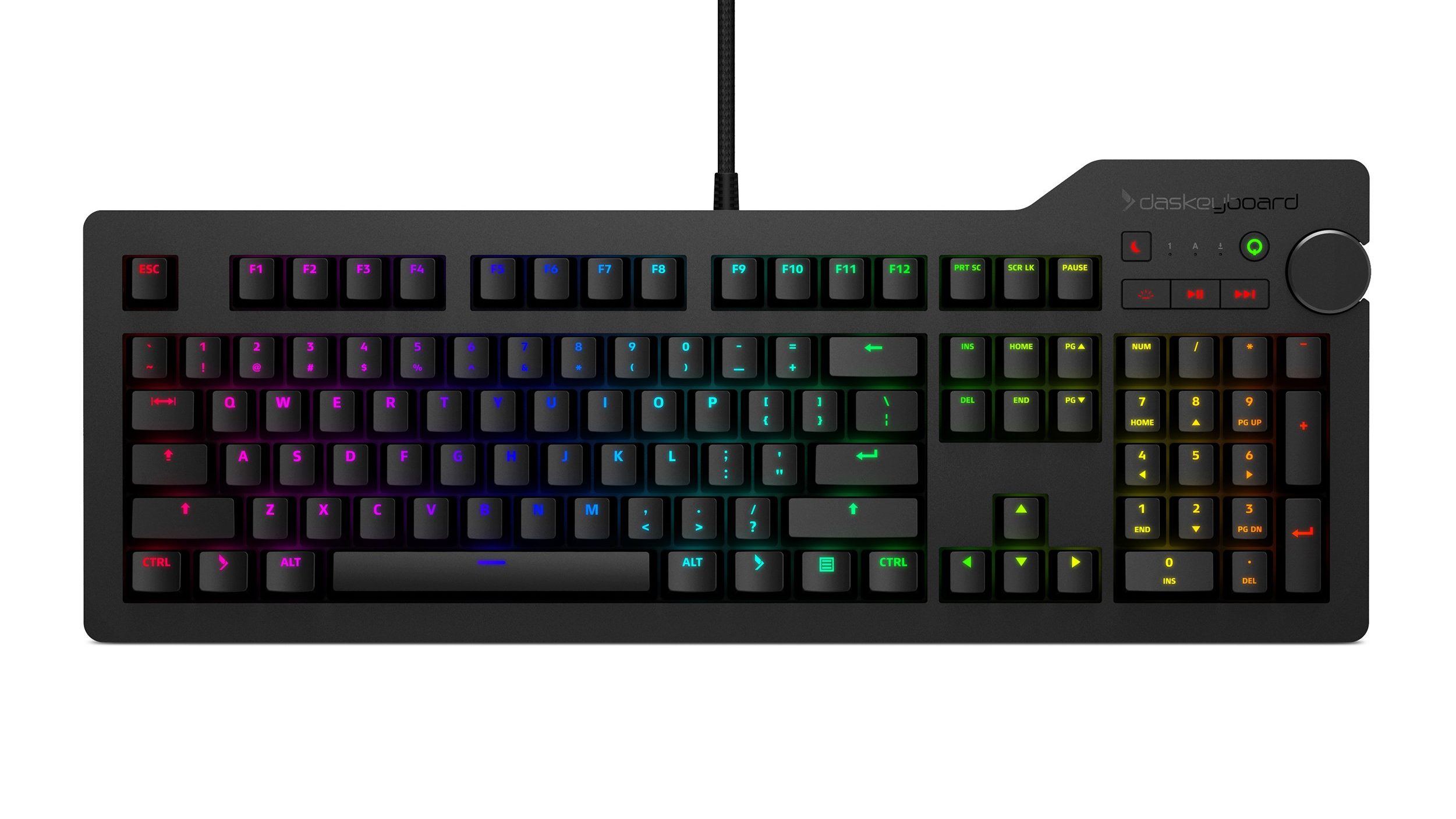 Programmers and developers can also tend to work during the evening, and while some may prefer the white backlit look, the RGB look tends to be more popular. In addition to having RGB backlighting, programmers enjoy technology that is programmable and customizable, which is why the 4Q is the best keyboard for programmers. Designed by programmers, for programmers, the Q software allows developers to turn off all their notifications on the computer while turning notifications on their keyboard that are related to the task or project they are working on. Programs such as Github, Asana, Basecamp, Trello, and Monday.com are integrated into the keyboard to give developers the ability to simply look down at their keyboard to see if their project is on-track or not.
In addition to the ability for programmers to integrate their project management software with their keyboard, they can also track Firewall status, server ping, CPU, Ram, and GPU usage to make sure everything is up and running smoothly. A new 4Q will certainly give any programmer something fun to geek out about as they also have the ability to write their own applets and integrations for the keyboard.
Best Keyboard for Gaming
4C TKL Compact Mechanical Keyboard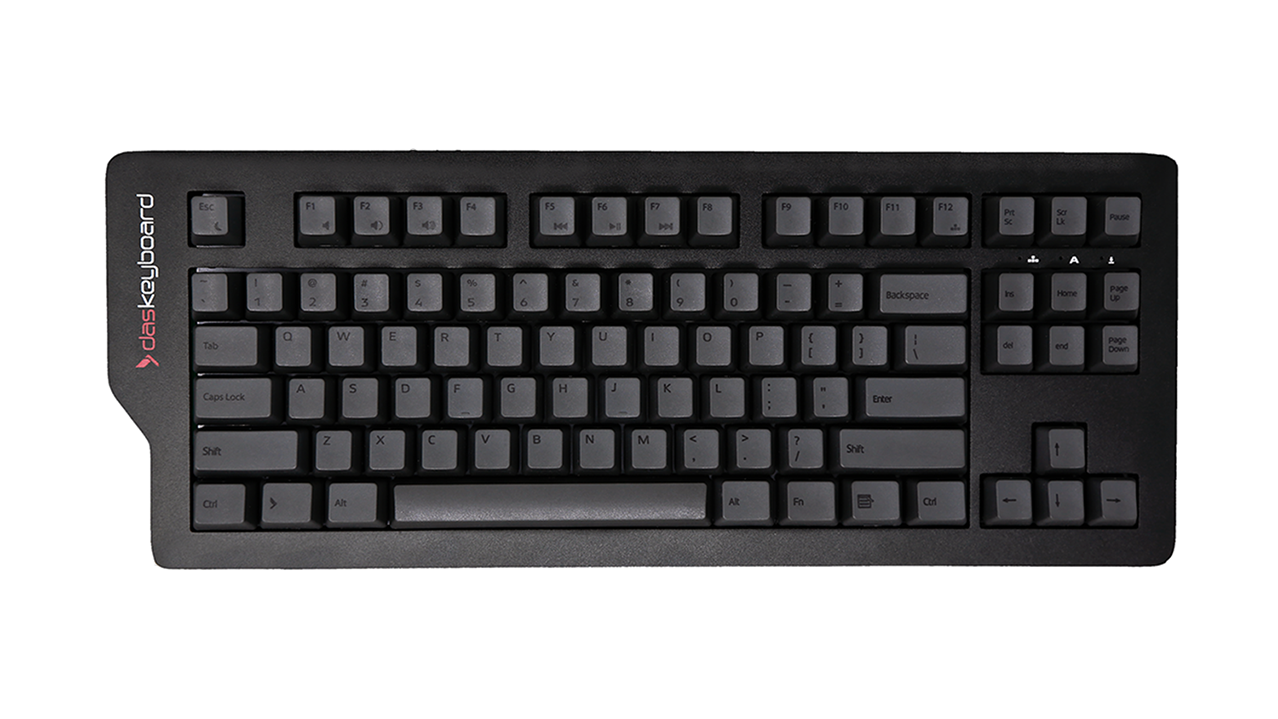 For years many gamers have been drawn to smaller, compact keyboards since they provide more space on the right side of the keyboard to move the mouse around while gaming, such as the 4C TKL. Gamers also tend to have backlit keyboards, likely influenced by streamers who often have a camera on their colorful, flashing keyboard for more entertainment value during their gameplay. While colorful RGB or intricate backlit TKL keyboards are used more frequently for gaming, there is no disadvantage to using a non-backlit keyboard for gaming, as can be seen in this clip of AngelPGC using the 4C TKL while playing Fortnite.
X50Q RGB Smart Mechanical Keyboard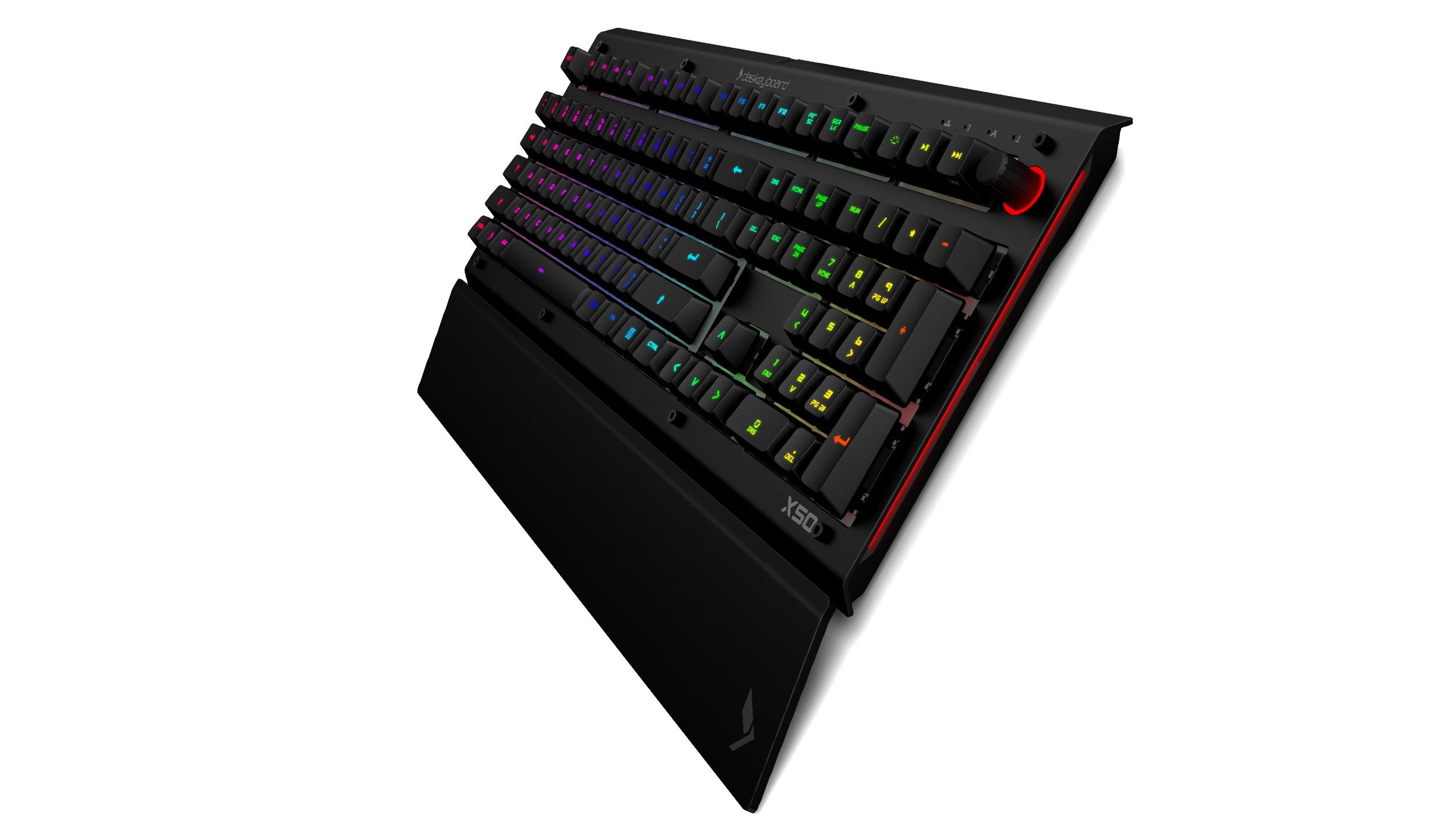 Technology professionals frequently spent a large amount of their free time gaming. As technology sectors have grown, as have the number of people who work in these industries. People who work in tech and who also like to play games on their computers are more likely to have a full-sized keyboard because it's more professional looking and also allows for quick access to the number pad when doing some quick math. For this reason, the X50Q has quickly become a favorite of professionals that also like to game. It has been named the best gaming keyboard by dozens of media outlets including T3, CNET, and Mashable to name a few. One reason the X50Q has been named as the best gaming keyboard multiple times is due to the turn-key lighting configurations for the popular games Counter-Strike and League of Legends, which highlight the various keys used for these games. Besides, this gaming keyboard comes with unique WASD keycaps for a cool look and added tactile advantage.
Best Keyboard for Writers
4 Professional Mechanical Keyboard
Professional writers earn their livelihoods from the words they type on their keyboards, which is why keyboards are often considered the most important tool of their craft. Writers who have been in this profession for long enough may have even started writing on a typewriter decades ago. This could be why the writing community tends to be drawn to mechanical keyboards and the tactile experience of writing on one.
New York Times Bestselling author George Beahm swears by his Das Keyboard and Business Reporter, Daisuke Wakabayashi, has shown why mechanical keyboards are so important to journalists. Many novelists, journalists, and poets either type on a Das Keyboard 4 Professional or the Model S (depending on if they listen to background music while they work – so prefer the media controls and volume knob on the 4 Professional). Both of these models are available for Mac or PC, and if you are selecting a mechanical keyboard for a writer who began their career writing on a typewriter or old mechanical keyboard, they will likely prefer a louder, clicky blue switch as it will more closely resemble an old fashion mechanical keyboard or typewriter.
Best Keyboard for Accountants and Finance Professionals
Model S Mechanical Keyboard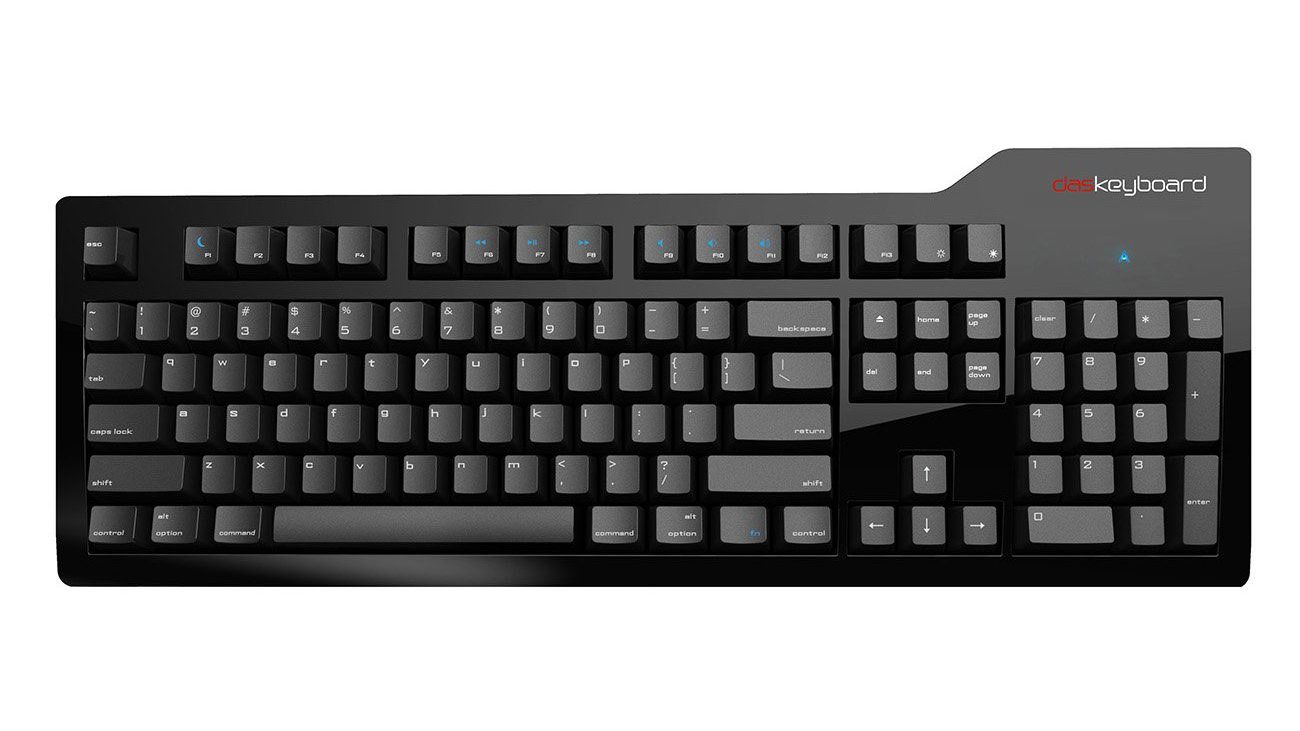 Accountants, CPAs, CFOs, and even your local tax professional spends a large portion of their day typing numbers into spreadsheets and compiling formulas in their favorite database or spreadsheet program. One thing that is a MUST when choosing a keyboard for an accountant or finance professional is that it must be a full-sized keyboard that has a number pad on the right. Accountants and finance professionals have mastered typing numbers on the calculator-like number pad on a mechanical keyboard with blazing speed. There is nothing worse than having to type out hundreds of numbers a day without one, so make sure to stay away from a TKL keyboard when buying a keyboard for someone in finance.
Much like writers, the keyboard that is best for a finance professional would simply be a matter of whether or not they listen to music while they crunch numbers. If they sit in silence then the Model S is a wise selection, but if they wear headphones to limit distractions, then the 4 Professional is the best mechanical keyboard for them.
Best Keyboard for Designers and Creatives
Prime 13 White LED Backlit Mechanical Keyboard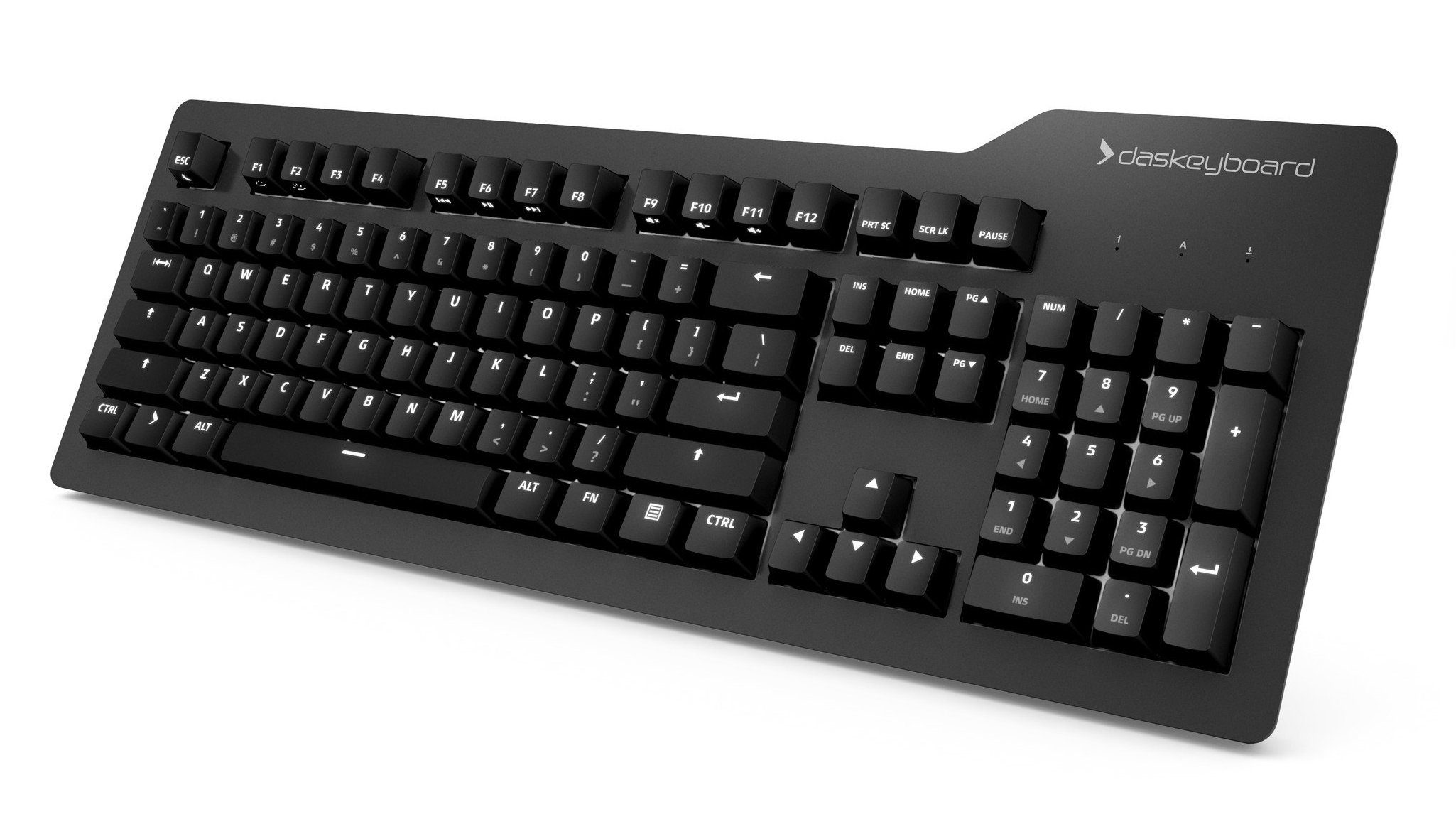 If you are looking for a keyboard for a designer who is constantly using the various types of photo, video, visual effects, games, or other editing software, they would likely prefer a backlit keyboard. Designers often have tight deadlines which cause them to work well into the evening after the sun has set, and having a backlit or RGB keyboard can keep them inspired as they continue to press on and finish their next project. The editors at the Creative Bloq, a site to provide news and inspiration to designers and creatives, selected the Prime 13 as a great keyboard for designers due to its minimalist design, "Lovely look" and quality build.
Some creatives and designers prefer to have RGB backlighting, which is why the X50Q (if they also like to game), or the 4Q would be the best keyboard for them. In addition to RGB backlighting, these keyboards come complete with Q Software that allows them to configure the backlighting to match the most common keys used on Photoshop, and AutoCAD with just one click.
Best Keyboard for Students
4C TKL Compact Mechanical Keyboard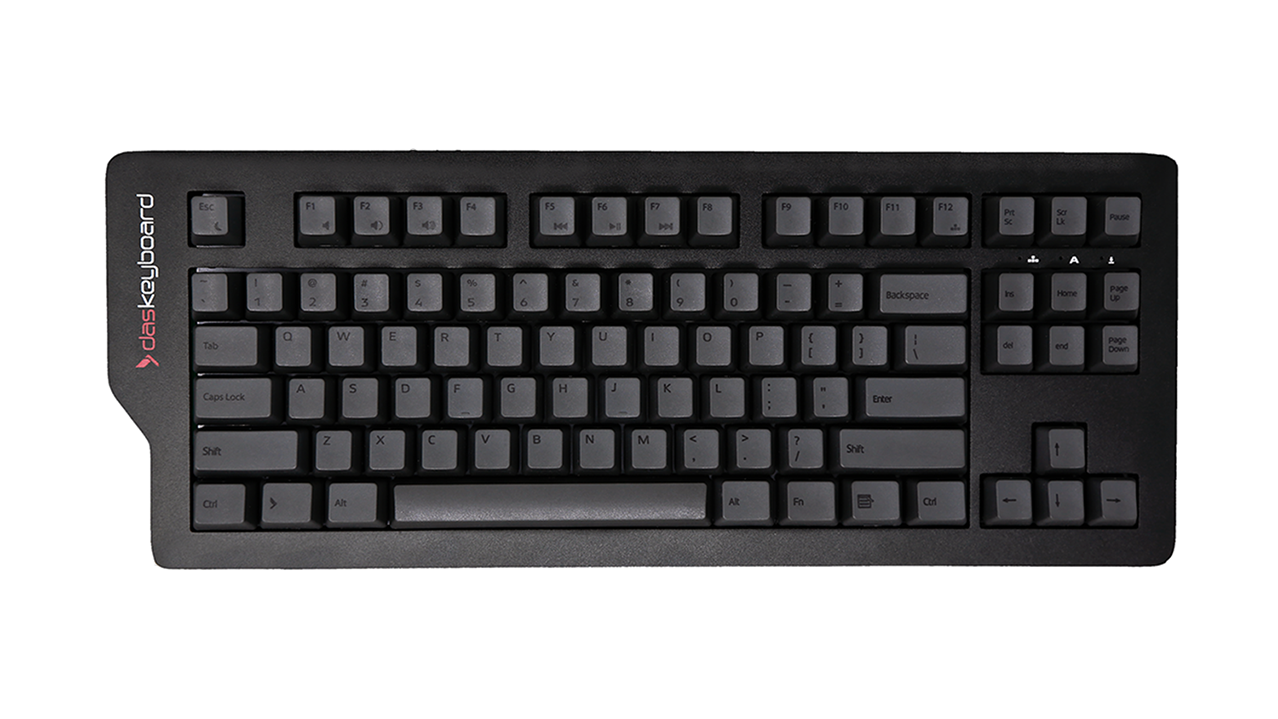 Most college students have limited desk space in their dorm rooms, and having a more portable setup is preferred. Even during the days where remote learning is more prevalent, there are real-life benefits to having more room on your desk for books, notebooks, your computer, and anything else you need to have handy to complete your schoolwork. This is why college students prefer a more compact keyboard, such as the 4C TKL (tenkeyless, which means without the number pad on the right), or even a 75% (even more compact than a TKL), 65% (even more compact than a 75% without the row of function keys at the top).
The Das Keyboard 4C TKL was designed with a sleek, modern appearance and is the company's most compact keyboard to date. Designed without the number pad, it's ideal for students using smaller workstations, or that have set up a makeshift desk at home. Since the 4C TKL is smaller and more compact, it is also a more portable keyboard that can be packed up and brought to a new work or study location. Also, students (and teachers) can always take advantage of Das Keyboard's education discount to help them further their knowledge and productivity with a little help from Das Keyboard.
While selecting the perfect gift for someone is never easy, if you know someone who is a fan of technology then you can rest assured that they will appreciate a high-quality mechanical keyboard. Whether someone has been building their own computers for years, or if they simply sit at a computer all day for work, a new mechanical keyboard will bring them a new feeling of accomplishment as they finish each workday. The tactile experience of using a mechanical keyboard is something that cannot be fully explained, and the joy that it brings from the psychoacoustic response of the click-and-clack makes it something that has been lost in the more common, cheap rubber dome keyboards. Not only will a premium mechanical keyboard provide them with years of added enjoyment with its tens-of-millions of keystrokes, but it will also bring a new personality to their work, with a distinct touch and feel that cannot be reproduced without a mechanical keyboard.