In this article we will be comparing three different keyboard layouts, QWERTY, Dvorak, and Colemak, to help you make an educated decision on which layout might be best for you. QWERTY was the first typing layout invented in the 1870s to complement the typewriter. It works very well with the typewriter, however, it's a less efficient layout for modern-day keyboards compared to the Dvorak and Colemak layouts. The QWERTY standard was set long ago and people are so used to using it that many people are not aware of the more optimized layouts, Dvorak & Colemak. By looking at the history of these keyboard layouts, the differences between each, and how to configure your keyboard for Dvorak or Colemak to learn one of these newer typing methods, you may decide to make the switch.
Which Layout is Faster, QWERTY, Dvorak, or Colemak?
Unfortunately, because QWERTY is so widely used and the sample size for Dvorak and Colemak typists is so small, there is not yet any definitive evidence that supports the notion that one layout is intrinsically faster than another. Currently, the fastest typist in the world, Anthony "Chak" Ermolin, winner of the 2020 Ultimate Typing Championship, is typing on a keyboard using the QWERTY layout. During the competition, only one typist was using an alternate layout during the competition, John "NoThisIsJohn" Leeds, who types on a Dvorak layout and finished in the 12th position. While this doesn't mean that there aren't extremely fast typists using other layouts, it is worth mentioning that all top 10 quarter-finalists in the competition were typing on a QWERTY layout. 
As time progresses and if more people become aware of Dvorak and Colemak layouts there may be more evidence to show that one, or both of these layouts are faster than QWERTY. Because Dvorak and Colemak are still virtually unknown to the general public, it would take a large change in the knowledge of these layouts and the younger generation of typists would need to adapt them to progress their acceptance in the world of competitive speed typing.  
Which Layout Should I Choose?
The QWERTY Keyboard Layout


The very first typing layout was invented by Christopher Latham Sholes in the 1870s. The goal of this layout was designed to be slow and inefficient so that the typewriters would not jam from typing too fast on them. Sholes accomplished this by putting vowels and other common letters far away from each other and by not placing many of the most used letters on the home row. If you look at this list and then look down at your keyboard you'll see that the home row of the QWERTY layout contains the letters A, S, D, F, J, K, L, and colon/semicolon. If you then compared these letters to the below chart which shows the most commonly used letters in the English language according to Wikipedia's relative frequency in texts, the only ones that match up are A (3rd), S (7th), and D (10th):
1. E – 13%
2. T –9.1%
3. A – 8.2%
4. O – 7.5%
5. I – 7%
6. N – 6.7%
7. S – 6.3%
8. H – 6.1%
9. R – 6%
10. D – 4.3%
Today, virtually every computer keyboard uses this layout, which is why it's so common and widely available. It is also the main reason that other layouts have not become more popular and are virtually unknown to the general public.
The Dvorak Keyboard Layout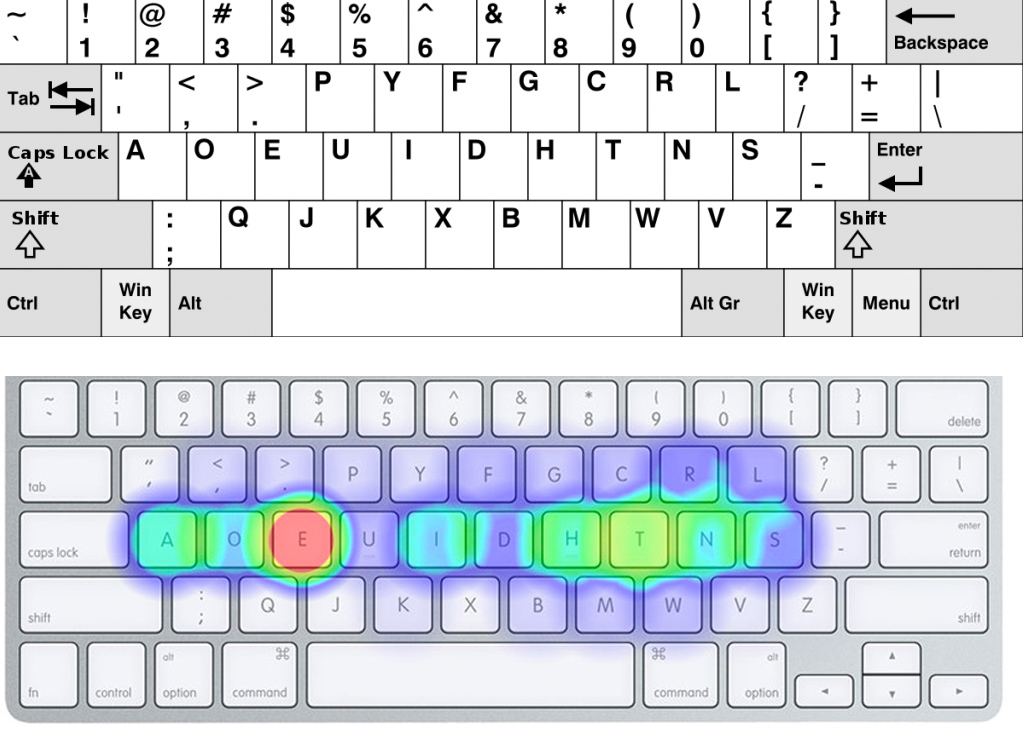 In the 1930s the Dvorak layout was invented by Dr. August Dvorak. The goal of the design was to be fast and efficient, so Dr. Dvorak placed the most common consonants and vowels on the home row, except for the letter U: 
A (3rd)
O (4th)
E (1st)
U (13th)
H (8th)
T (2nd)
N (6th)
S (7th)
As you can see, the Dvorak layout also places the most used letters in the English language, E (1st) and T (2nd) on the longest fingers, the middle finger. You will also find the most common punctuation just above the left hand's home row which has also been shown to have its advantages for typists who adopt this keyboard layout.
Because the Dvorak layout is not widely used, the sample size of typists to use it is too small to make a true determination of the layout is intrinsically faster than the QWERTY layout, but there is early evidence that shows that it Dvorak (and Colemak) typists tend to be more accurate. 
If you have an interest in trying this layout you can take comfort in the idea that at the very least you may become a more accurate typist, but as with learning anything new it will take months to get used to and the more practice that is put into learning to type on a Dvorak layout, the more progress and the faster you will be able to type. Read this blog for more tips on how to type on a Dvorak layout.
For those looking to begin to use a Dvorak layout, it is very easy to set up your keyboard for a Dvorak layout, simply change the keyboard settings in your computer's system settings. Once you reconfigure your keyboard settings, you'll be typing on a Dvorak layout, but the keycaps on your keyboard will still be set up for a QWERTY layout so will be inaccurate. To remove and reconfigure your keycaps, make sure to purchase a keycap puller and then set aside 20 minutes to remove and reconfigure the keycaps in the correct place for the Dvorak layout.
Dvorak is great for people who are looking to type with less effort in the long term and are willing to overcome the challenge of learning something new. It may take months to feel comfortable with the Dvorak layout, but it will be worth it in the long run.
Colemak


Lastly, we have one of the newest keyboard layouts, the Colemak layout invented by Shai Coleman in 2006. It was designed to be an upgrade from the Dvorak, where the O (4th) is replaced by R (9th), E (1st) is replaced with S (7th), and U (13th) is replaced with T from the right hand (2nd). The right hand on the Colemak differs from Dvorak with the H (8th) being replaced with N (6th), the T (2nd) with E (1st), N (6th) with I (5th), and S with O (4th):
A (3rd)
R (9th)
S (7th)
T (2nd)
N (6th)
E (1st)
I (5th)
O (4th)
With the Colemak layout the letter I makes its first appearance in the home row, and you will have the punctuation keys in the same place as a QWERTY keyboard except for the colon/semicolon key being moved above the home row. If you are interested in making a switch from QWERTY to a new layout, then Colemak may be easier simply because there are fewer keys that are changed due to the same period and comma keys. 
To change to a Colemak layout is a very similar process to switching to Dvorak on a Mac. On a Windows PC, however, there is no easy way to reconfigure your keyboard which is one reason it has a very small userbase. It is difficult to make a Windows PC run a perfect Colemak layout, but there is a third-party application that Colemak.com has created for Windows users, although the Caps Lock on a QWERTY is not replaced with the second Backspace key without downloading another program that has not been yet had an impartial assessment. All said, it is common to see in the Dvorak community holds the Colemak layout in high regard and they are both well respected in the general QWERTY typing community. 
Conclusion
When comparing the QWERTY layout to the Dvorak and Colemak layouts there are a few things to keep in mind. First, the QWERTY layout is a lot less efficient than the other two layouts and is only so popular because of its history and how widely distributed it has been for the past 150 years. The Colemak layout is arguably the best in terms of efficiency, and ease of use when coming from QWERTY, however, you would need to download a third-party application that does not remap the Backspace with Caps Lock as in a true Colemak layout. No matter what you choose as your keyboard layout, have fun and happy typing.
Created in collaboration with Keyboard Kings