You may be wondering if using a claw grip is the best way to hold a mouse, or if a palm grip, claw grip, or fingertip grip is better for how you use your mouse. Your mouse grip impacts performance, comfort, and fatigue, and can even have lasting health effects for serious gamers, writers, and business professionals. 
There are three main types of mouse grips: claw, palm, and fingertip – and each has advantages and disadvantages depending on situational tasks and personal preference. The following explores their differences so you can choose the best mouse grip for your needs.
Mouse Grips Compared: Claw vs. Palm vs. Fingertip
This table offers a summary of the differences between common mouse grips. Keep reading for a more detailed breakdown. 
| | | | |
| --- | --- | --- | --- |
| Mouse Grip | Advantages | Disadvantages | Mouse Features |
| Claw Grip | Fast-twitch responsiveness balanced with anchored palm stability | Less control than palm grip, potential for repetitive use injury | Short mouse with a high arch |
| Palm Grip | Precision and stability with natural, ergonomic comfort | Less speed and responsiveness than fingertip and claw grips | Long, wide mouse with a high arch |
| Fingertip Grip | Speed and rapid response with good lateral movement | Less control than palm and claw grips, potential for wrist strain | Short, lightweight mouse with a flattened arch |
Claw Grip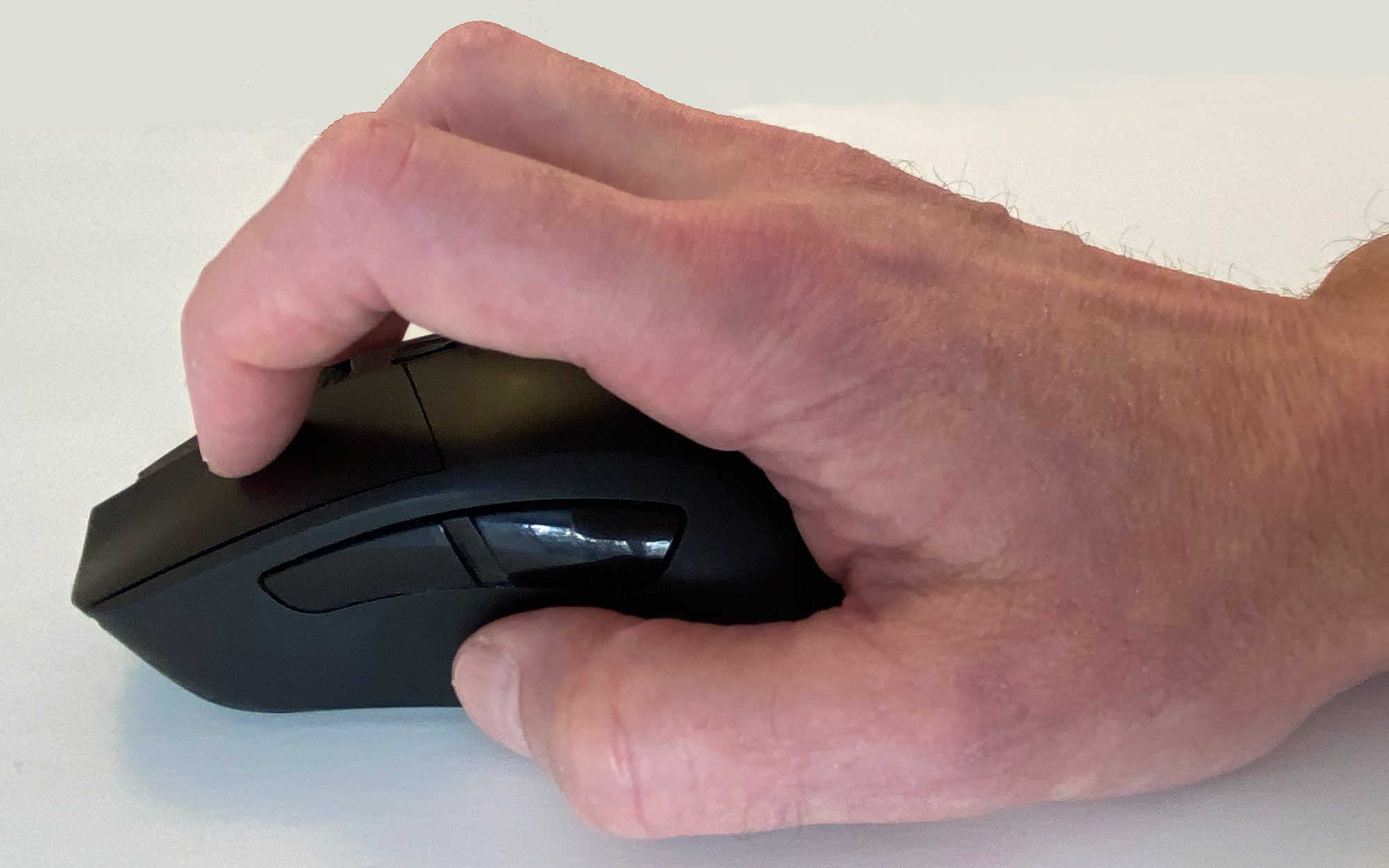 The claw grip is named for the talon-like shape your hand makes in this position:
Arch your index and middle fingers over the left/right click buttons, so your fingertips are nearly under your knuckles
Anchor just the back of your palm on the mouse
Your thumb, ring and pinky fingers rest on the sides of the mouse for easy button access
With a claw grip, you rely on your wrist and fingertips for control and minimize the need to use your forearm and shoulder.
Claw Grip Advantages
A claw mouse grip couples fast-twitch responsiveness with the stability of an anchored palm. It's ideal for situations where speed and accuracy matter, such as when playing first-person shooter games. This aggressive, high-tension grip allows you to make quick, precise movements over a small mouse arc, perfect for scenarios that require an instant response, flick shots, and rapid repetition, such as spamming grenades toward your enemies.
A claw grip pairs well with a high mouse DPI sensitivity setting since your mouse doesn't need to travel far to move your pointer across the entire screen.
Claw Grip Disadvantages
The high-tension grip and arched finger position can take a toll on your fingers and wrist, causing fatigue and inaccuracy over time. This position could also lead to repetitive use injury. Using a claw grip with high mouse DPI improves speed, but often at the expense of precision.
Though resting the back of your palm on the mouse offers more stability than a fingertip grip, a claw grip isn't as adept as a palm grip at maintaining accurate movements over long mouse movements. That means it's not ideal for tracking, such as aiming a sniper scope or drawing straight lines in graphic design software.
When to Use a Claw Grip
You might use a claw grip if you're seeking a balance between speed and accuracy, and you tend to make short, fast-twitch mouse movements with minimal range of motion.
Claw Grip Mouse Features
If you're using a claw grip, look for a shorter mouse that caters to curled fingers and a high, arched profile to rest the back of your palm comfortably.
Popular mice that work well with claw grips include:
Palm Grip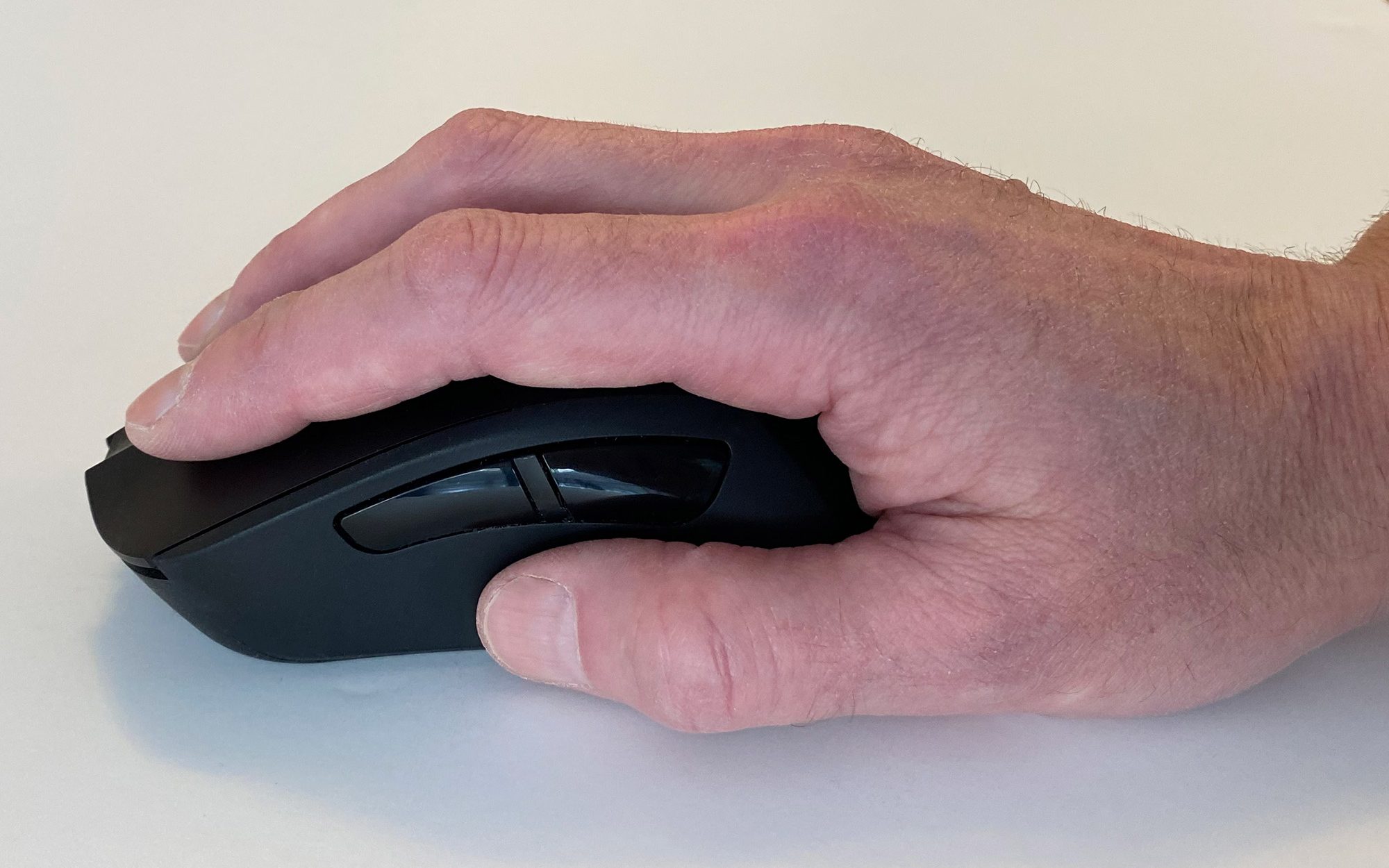 To use the aptly named palm grip, you:
Rest most of your palm on top of the mouse
Place your index and middle fingers so they contact the mouse as they extend from your palm to the left, and right-click buttons
Rest your thumb, ring and pinky fingers on the sides of the mouse
With a palm grip, you use your forearm and shoulder more to control the mouse and rely less on your fingertips and wrist. 
Palm Grip Advantages
A palm grip offers greater control than a fingertip or claw grip. That makes it ideal for scenarios where you need precision and stability, such as aiming a sniper scope or creating an illustration. This low-tension, natural, and comfortable grip is also the most ergonomic option, sparing your fingers and wrists from repetitive movements that could lead to injuries such as carpal tunnel syndrome. Because a palm grip requires a more extensive range of motion as you slide your mouse across the desktop, it's often paired with a lower DPI/sensitivity setting.
Palm Grip Disadvantages
Though a palm grip offers precision accuracy, that comes at the expense of speed and responsiveness. This type of mouse grip doesn't cater to fast-twitch and repetitive clicks, so it's not ideal for games where you need to fire at moving targets. In addition, prolonged use of the larger muscle groups in your forearm and shoulder could cause fatigue.
When to Use a Palm Grip
You might consider using a palm grip if you want greater control over your mouse but don't need the quick responsiveness demanded by some action games, or for going from one screen to another quickly. It's ideal if you tend to make long, sweeping mouse movements across your desktop and if you have a low mouse DPI. A palm grip is an excellent general use option and works well with video editing and design software such as Adobe Illustrator, InDesign, Photoshop, Premiere, or Final Cut Pro.
Palm Grip Mouse Features
A wider mouse with ample length and a healthy arch to support your palm and fingers will work the best with a palm grip. Many ergonomic mice also work well with a palm grip. Popular palm grip mouse options include:
Fingertip Grip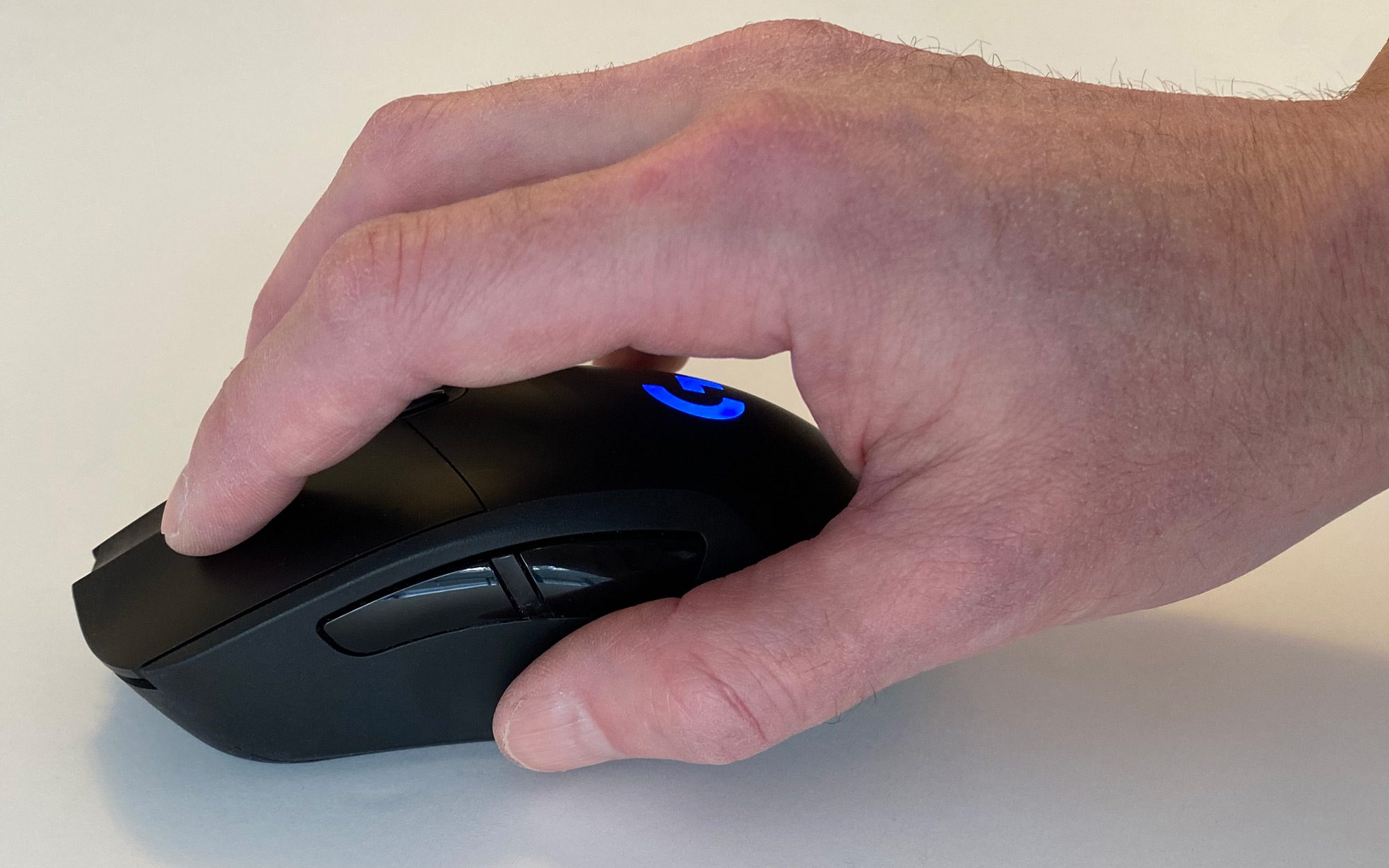 As its name suggests, you only use your fingertips to grip the mouse:
Place just the tips of your index and middle fingers on the left and right-click buttons
Your palm will hover over, or rest on the desktop behind your mouse
Your thumb, ring, and pinky fingers rest on the sides of the mouse
With a fingertip grip, you primarily rely on your fingers for mouse movement, but you can still use your forearm and shoulder to drag your mouse over greater desktop distances.
Fingertip Grip Advantages
The fingertip grip is optimized for speed and rapid response, ideal for quick mouse motion and repetition. Unlike a claw grip, this style offers a low-tension, relaxed feel that's both comfortable and less demanding to maintain.
With a fingertip grip, you might use your thumbs and ring or pinky fingers instead of your palm for lateral movement. That means this grip offers a greater side-to-side range of motion that makes it easier to drag your mouse in a straight lateral line, rather than the arcing movement associated with a claw grip.
A fingertip grip pairs well with a high mouse DPI setting for optimal speed with a smaller range of motion.
Fingertip Grip Disadvantages
A fingertip grip can improve your response time, but you might sacrifice precision and control. Unlike palm and claw grip, nothing is anchoring your mouse so it's more difficult to make fine-tuned adjustments required for tracking, aiming, designing, and similar tasks.
With minimal touchpoints, a fingertip grip can prove challenging to master; depending on how you hold your palm, this grip could place additional strain on your wrist and lead to overuse injuries.
When to Use a Fingertip Grip
You might consider using a fingertip grip when you want to prioritize speed over control, especially if you play first-person-shooters, have multiple screens that you constantly scroll back and forth to, or if you play other action games that require a rapid response but are not dependent on precision accuracy.
Fingertip Grip Mouse Features
A short, lightweight mouse with a flattened arch is best for a fingertip grip. Since you're relying on your fingertips to move the mouse you might want to consider a model that features tactile grips to help enhance control. Here are some popular options:
How to Choose the Best Mouse Grip
The best mouse grip for you will depend on your personal preference, as well as the way you use your mouse and computer. 
Productivity Tasks and Gaming Styles
If you use fast-twitch responsiveness and straight-line lateral movement, a fingertip grip might be your best option. A palm grip is a good choice if you need precision, control, and stability. Consider trying a claw grip if you're seeking a balance between both worlds.
Your mouse DPI is another important factor when making a decision. If you prefer to use high DPI you will likely want to use a grip that relies on short movements, such as a fingertip or claw grip. If you prefer to use a lower DPI, a palm grip will allow you to make extended movements without losing control.
Hand Size and Mouse Selection
Some grips are better suited to certain hand sizes. A fingertip grip favors large hands that are long enough to rest the palm behind the mouse and still reach the left and right buttons. A claw grip's curled finger position works well for small hands, while a palm grip is a happy medium that works for any size hand.
That said, don't let your hand size dictate your grip. If you feel your hand is too large or too small to properly grip your mouse the way you want, consider getting a larger or smaller mouse instead.
Comfort, Fatigue, and Ergonomics
It's important to account for comfort, fatigue, and ergonomics if you spend long hours at your computer. Choose a mouse grip that feels natural to you and doesn't place stress on your fingers, wrists, and forearms.
Play around with different grips to see what feels most comfortable and which grips reduce fatigue. Your goal is to comfortably grip your mouse in a way that maximizes performance yet minimizes the risk for long-term repetitive injuries.
Take a Hybrid Approach
It's likely your natural grip will fall somewhere between one of these defined styles. For example, you might favor your fingertips but still barely rest your palm on the mouse like a claw grip.
In addition, you might switch grips depending on the task at hand. For example, you could use a palm grip for slow aiming during a game or using when you start a design project, then switch to a fingertip or claw grip during a fast pace game, or if you have to switch back-and-forth between two programs on different screens. There is no need to choose a specific mouse grip style and use it 100% of the time. Ultimately, you should select a grip or combination of grips that balance your personal preferences with optimal performance, whether you're fragging enemies in Warzone or designing a logo in Illustrator.