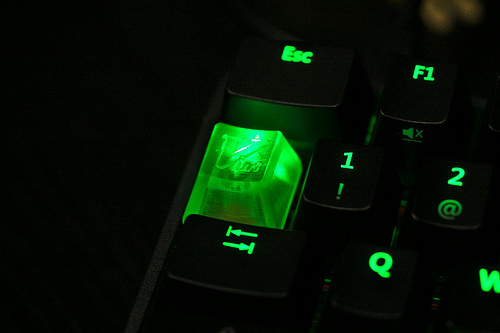 Mechanical keyboards are popular for many reasons, like their long-lasting durability or their effect on productivity.
And another reason people love them is because they can be easy to customize.
Where you can't usually choose anything other than a color or shape with mainstream keyboards, a lot of enthusiasts will either build a mechanical keyboard from the ground up, or order one pre-made and customize it to their liking.
One of the easiest ways to do this is with custom keycaps.
What? Custom Keycaps Are a Thing?
Yes, they're actually a thing. They're sought by mechanical keyboard aficionados who want to make their device extra-special.
Custom keycaps are manufactured keycaps made for mechanical keyboards according to the customer's or company's design. Many companies make custom keycaps, including the ones who manufacture the keys for other places keys are typically needing to be customized, like on bank ATM machines.
When you're looking for custom keycaps, you'll find lots of different options available (who would've thought?). For example, keys can be made out of either ABS or PBT plastics, and symbols can be put on the keys with any method from printing to laser-etching to double-shotting (a type of molding that tends to keep the lettering from wearing out faster, but is harder to find because it's not a common type of production anymore).
Then, of course, on top of those options, you can choose from a variety of colors, symbols, and even shapes. Yes, shapes, like skulls or Darth Vader:
You can even find some companies who will take your specific design requests into account, though this is harder to find. Also, most companies currently only make keycaps for Cherry MX switches, but depending on the company, you might be able to get caps made for other types of switches.
Basically, custom keycaps are way more awesome than people realize.
Where You Can Get Some…
If you're the kind of person who did a massive happy dance when your mechanical keyboard arrived in the mail, you should consider buying custom keycaps to turn that dance into a full-out performance.
Fortunately, there are a lot of places to buy custom keycaps. The following is a list of some of the most popular places online to order your caps.
– Pimp My Keyboard
– TechKeys
– Signature Plastics
– KeyPop
– Clack Factory (highly sought-after custom keycaps made by user Click Clack on GeekHack.com's forums)
You'll want to make sure you look into what each site offers, because as mentioned above, there are lots of different types of keycaps and not all companies make what you could be looking for. If you can't find answers to your questions on their site, we highly suggest you contact them directly.
Have you put any custom keycaps on your Das Keyboard or other mechanical? Tell us what they look like in the comments below (or better yet, send us a picture).