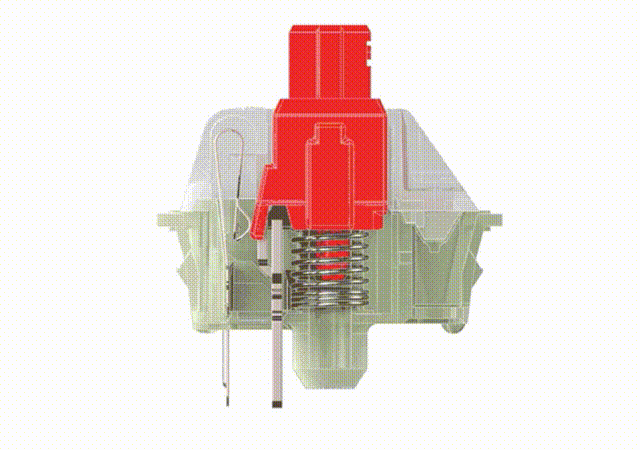 Mechanical keyboard switches directly affect performance, so many gamers and typists carefully compare linear vs. tactile switches to see which is best for their needs. This guide makes the decision easier by clarifying the differences between linear and tactile switches.
Linear vs Tactile Switches: Quick Comparison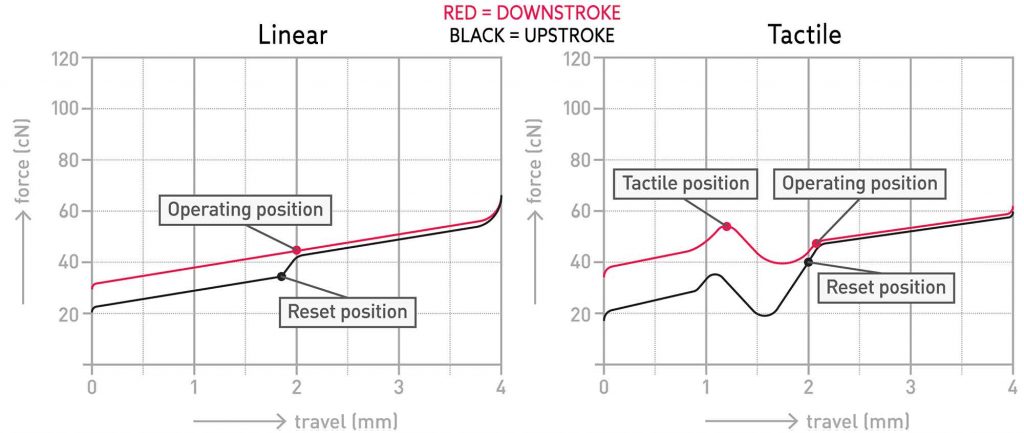 Use the table to compare the primary differences between linear and tactile switches. Scroll down for additional details.
| | | |
| --- | --- | --- |
| | Linear Switches | Tactile Switches |
| Keystroke Feel | Smooth and consistent | Slight bump |
| Tactile Feedback | No | Yes |
| Sound | Noiseless | Quiet |
| Key Advantage | Speed | Accuracy |
| Best For (In General) | Gaming | Typing |
Linear Switches Are Smooth and Consistent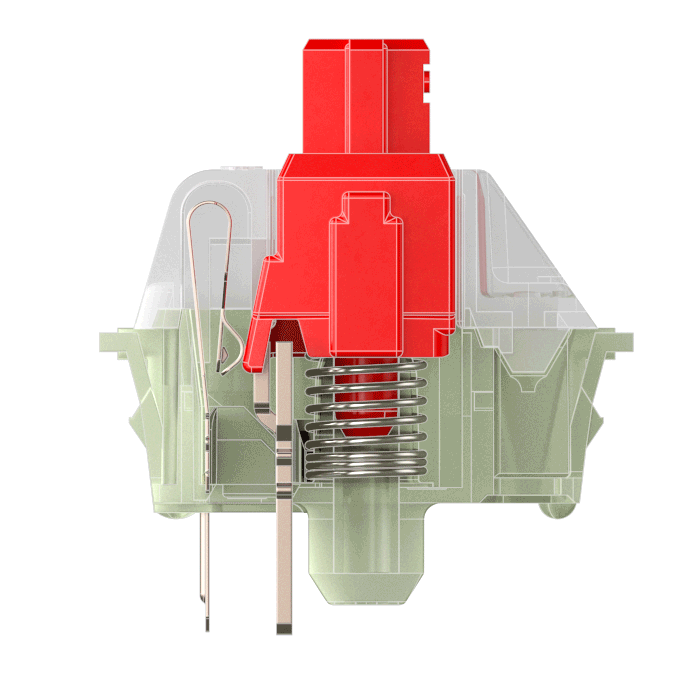 Linear switches offer a smooth, consistent bump-free feel throughout each keystroke. Many people feel those qualities make linear switches ideal for gaming when tactile feedback could slightly reduce speed and increase response time. That's anecdotal, but it's worth noting that high-end linear switches such as the Cherry MX Red and Cherry MX Speed Silver are often regarded as the best for gaming and speed.
Unlike clicky switches, linear switches are noiseless, so they won't bother coworkers in shared workspaces or frustrate followers during video recordings or live streams. That said, keycaps can still clack if they're bottomed out.
The lack of feedback can represent a learning curve for those accustomed to clicky or tactile switches, especially if they don't feel their keystrokes are registering. That could lead to inaccuracies until they get used to linear switches.
Linear Switch Advantages
Smooth, soft-touch
Consistent keystroke
Noiseless
Speed
Generally considered best for gaming
Linear Switch Considerations
No tactile feedback
Reduced accuracy through the learning curve
Popular Linear Switches
Cherry MX Red
Cherry MX Speed Silver
Cherry MX Black
Cherry MX Silent Red
Cherry MX Low Profile Speed
Gateron Red
Gateron Yellow
Gateron Ink Black
Kailh Red
Kailh Black
Tactile Switches Offer Tangible Feedback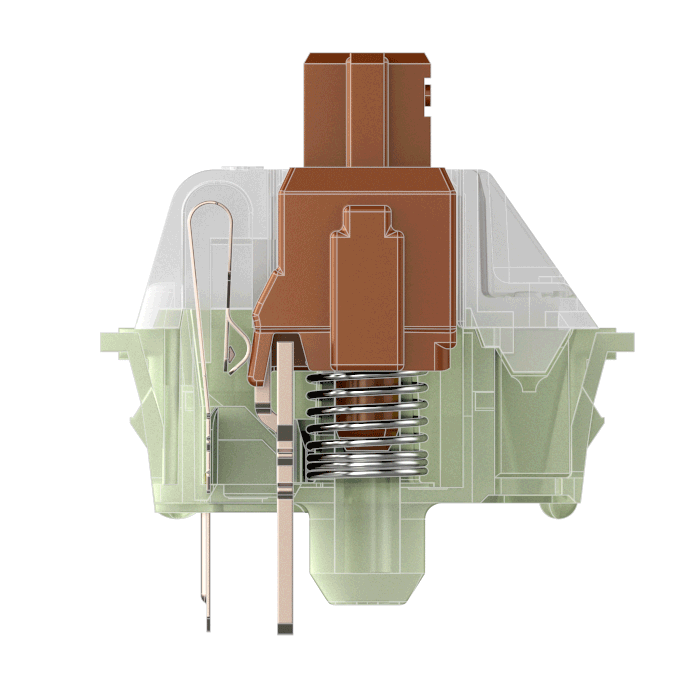 When you press a tactile switch and feel a satisfying bump partway through the keystroke. That bump offers instant, tangible feedback that lets users know their keystrokes are registered. Tactile switches such as the Cherry MX Brown are considered excellent for all-purpose use, and many people say the bump makes tactile switches best for typing.
Clicky switches could be considered a subset of tactile switches since they also provide feedback. But tactile switches are quiet, so they're good for shared workspaces and video recording, while clicky switches are designed to deliver an audible click that could bother others. Cherry MX Blue and Cherry MX Green switches, for example, are regarded as two of the best switches for typing. Both are clicky switches with tactile feedback. Tactile switches might help reduce typos, especially for those with twitchy fingers, since they tell users precisely when each keystroke registers, while others feel that the tactility reduces their typing speed.
Tactile Switch Advantages
Instant, tangible feedback
Satisfying bump
Quiet
Accuracy
Generally considered best for typing and all-purpose use
Tactile Switch Considerations
Inconsistent feel through keystrokes
Potentially reduced speed
Popular Tactile Switches
Cherry MX Brown
Cherry MX Clear
Cherry MX Grey
Das Keyboard Gamma Zulu Soft
Gateron Brown
Kailh Brown
Kaihl Speed Copper
Boba U4
Glorious Panda
Durok T1
Linear vs. Tactile Switches: Common Misconceptions
Three misconceptions tend to pop up when comparing tactile to linear switches.
1. Linear and Tactile Switches Have Different Resistance
Some articles state that tactile switches have greater resistance than linear switches, which means they can slow response times. It's important to note that "linear" and "tactile" refer to actuation types, not resistance ratings.
For example, Cherry MX Browns are tactile switches with 55 cN (centinewton) resistance. Cherry MX Blacks are linear switches with 60 cN resistance. The linear switch has greater resistance than the tactile switch in this comparison.
Linear switches do tend to have less resistance than tactile switches (Cherry MX Reds and Cherry MX Speed Silvers are both 45 cN), but that isn't true with every model.
2. Travel Distance
Similarly, some erroneously state that linear switches have less travel distance than tactile switches, making linear switches faster and more responsive. Again, that doesn't stand true across the board in real-world comparisons.
For example, the Cherry MX Brown tactile switch features a 2.0 mm pre-travel distance and 4.0 mm total travel, the same as two popular linear switches: the Cherry MX Red and Cherry MX Black.
That said, mechanical keyboard switch manufacturers do reduce travel distance to improve speed. The Cherry MX Speed Silver, for instance, has a 1.2 mm pre-travel distance and 3.4 mm total travel. That said, travel distance alone isn't a differentiator between linear and tactile switches.
3. Colors
Cherry MX switch stems are famously color-coded by switch type, and other manufacturers such as Gateron and Kaihl tend to use the same colors to help buyers understand what kind of switches they're getting:
Linear: Red, yellow and black stems
Tactile: Brown, grey, and clear stems
Clicky: Blue and green stems
The color of a switch isn't always a reliable way to identify a linear switch from a tactile switch. For example, the Gateron Yellow is a linear switch, while the Glorious Panda is a tactile switch. Both have yellow stems. Companies also make switches with stem colors not found in the current Cherry MX lineup, including pink, orange, and white.
How to Choose Between Linear vs Tactile Switches
Both linear and tactile switches offer unique characteristics designed to enhance mechanical keyboard performance. Though some say linear switches are best for gaming and tactile switches are best for typing, neither type of switch is inherently better than the other. Ultimately, the choice comes down to personal preference.
If you prefer a smooth, consistent, bump-free, and noiseless keystroke, linear switches might be the best option. Tactile switches are a great choice if you like an instant, tangible, yet quiet feedback with every keystroke.
Do your research and avoid generalizations and misconceptions that could cause you to buy the wrong switches. If you can, give both switches a try before you buy. Taking them for a test run is the best way to tell which type of switch you prefer and maybe you'll find a new favorite feel for typing or coding.