Contra Mod build
An ortholinear keyboard is a compact yet fully functional keyboard with equally sized keys that are laid out in a uniform grid. They're unique options for writers, programmers, gamers, and hobbyists who want to experiment with a novel typing experience. Proponents say this keyboard style can improve comfort, speed, and accuracy, though others doubt those benefits. This guide details everything you need to know about ortholinear keyboards to help you decide whether to give one a try.
Ortholinear Keyboards Are Compact Yet Fully Functional
New board (ID75, Midnight Jade switches, DSA and RAMA caps), new artisan (bonus from AuroraCaps)
Ortholinear keyboards are more compact than traditional keyboards, typically available in 40% and 60% keyboard sizes that omit function and keys. Here's what makes ortholinear keyboards unique.
Gridded, Non-Staggered Layouts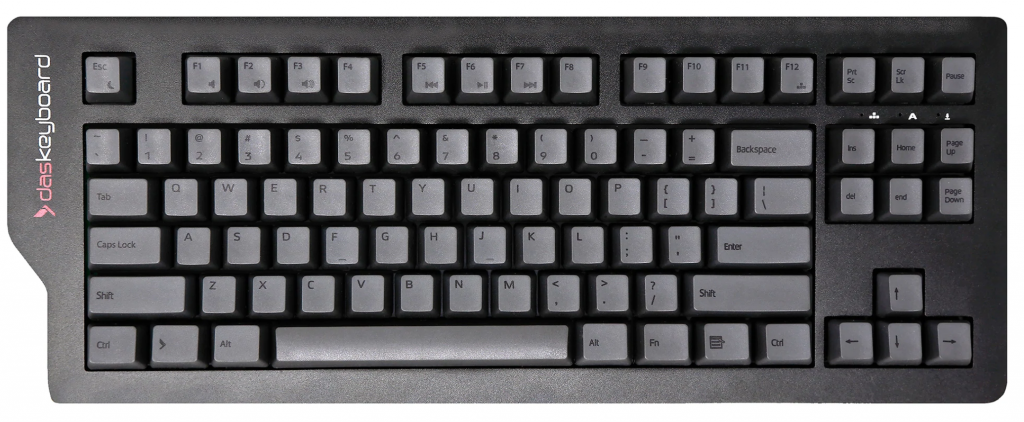 The keys on a standard keyboard are staggered. That's a holdover from the typewriter era when keys were positioned so their underlying arms didn't jam. Typists were accustomed to a staggered layout, so the design persisted on modern keyboards.
An ortholinear keyboard features a non-staggered layout. Keys are perfectly aligned in a grid with uniform rows and columns (often 4 rows by 12 columns) so that each key is in a straight line from the next. In fact, the word "ortho" means "straight," and "linear" means "arranged in a straight line," so "ortholinear" could translate to "straight line."
Ortholinear keyboards are usually available in two layout options: grid and MIT. The spacebar is the same size as the other keys in a grid layout. In an MIT layout, the spacebar is larger and takes up two or more keyspaces. Split ortholinear keyboards are also available. They divide the keyboard into two separate pads for improved ergonomics.
Ortholinear keyboards generally do not have a visible border around the keypad, so keys appear to float on the board.
Fewer Keys, Same Capabilities
Ortholinear keyboards typically have between 40 and 50 keys, compared to the 100-plus found on full-size keyboards. Most notably, ortholinear keyboards often omit:
Number pads
Function keys
Number rows
Despite those omissions, ortholinear keyboards achieve the same functionality as full-size keyboards by employing layers:
Each key is assigned multiple inputs, such as a number, letter, and special character.
Each input is on a different layer.
Users press layer keys to switch layers for the desired input.
It's like pressing the Fn key on a traditional keyboard, but with three to six inputs for each key. For example, the "E" key on an ortholinear keyboard might have these layers:
Base Key: E
Layer Up: 3
Layer Down: #
In this manner, ortholinear keyboards can replicate the functionality of a standard keyboard at roughly half the size.
Programmable and Customizable
Ortholinear keyboards can be programmed using a number of different types of open and customizable. Some models work with keymapping software such as QMK, pictured above, that allows users to program custom macros or choose their preferred key layouts, such as QWERTY, Dvorak, or Colemak. 
In addition, many ortholinear keyboards let users change keycaps and switches, allowing for customization with high-performance components such as Cherry MX switches, preferred keycap profiles, and RGB backlighting.
Some ortholinear keyboards are pre-built, while others come as kits users need to build themselves. The former offers convenience, while the latter lends to custom builds that cater to specific user preferences.
Ortholinear Keyboard Benefits
Ortholinear keyboard users often cite the following benefits.
Reduced Fatigue
With their equally sized, multi-input keys and grid layouts, ortholinear keyboards are designed to minimize finger travel distance. Users' fingers stay within two keys of the home row, and the straight-lined design eliminates the need for unnatural finger curling. That could reduce fatigue during extended typing or gaming sessions.
Increased Speed and Accuracy
Less finger travel distance and a compact design could improve typing speed once users grow accustomed to an ortholinear keyboard. Since every key is in a straight line up, down, left,, or right, typists don't need to look at the keyboard to know where they're at or hit function keys, improving accuracy.
Comfort and Ergonomics
Fans of ortholinear keyboards often say they're more comfortable, and some claim they're more ergonomic than standard keyboards. However, this is subjective as others feel the layout forces their fingers into unnatural positions.
Portability
Their relatively diminutive size makes ortholinear keyboards ideal for travel. Some models can fit in pockets, so they're ideal for taking on vacations or between work and home.
Aesthetics
Ortholinear keyboards take up less desktop space, lending a tidy, attractive appearance to work and gaming stations. In addition, customization options such as key colors, keycap profiles, and RGB backlighting enable users to personalize to their unique tastes.
Ortholinear Keyboard Disadvantages
It's important to consider potential disadvantages before committing to an ortholinear keyboard.
Learning Curve
It takes time to get accustomed to an ortholinear keyboard, especially for those used to a traditional keyboard with staggered keys. Users must overcome and retrain muscle memory and can expect plenty of typos along the way.
Limited Research to Support Benefits
Though proponents espouse the benefits of ortholinear keyboards, there is limited research to support their claims of reduced fatigue or improved speed and accuracy. They may be less ergonomic than standard keyboards. That isn't meant to discount anecdotal evidence, but more research is needed to scientifically support the stated benefits of this keyboard style.
Limited Options to Buy an Ortholinear Keyboard
Ortholinear keyboards represent a unique niche in the computer peripheral industry, so there aren't nearly as many options as there are for standard layouts or full-size mechanical keyboards. They're also priced like specialty products, with some pre-built ortholinear keyboards costing over $200, and to build your own can be even more due to the limited supply of ortholinear keyboard kits. While this may not be considered expensive for a high-end keyboard, it might be a little pricey for those who aren't sure if they'll like an ortholinear keyboard.
How to Know if an Ortholinear Keyboard is Right for You
The best way to know is to take an ortholinear keyboard for a test drive. See if you have a friend who has one and is willing to let you borrow it for a few weeks since you'll need time to get accustomed to a new layout. Or see if a local computer store has a used model you can test for cheap. Ultimately, you don't want to invest hundreds of dollars into a keyboard you don't like.
Ortholinear keyboards are compact yet fully functional keyboards with non-staggered layouts. For some users, they might reduce fatigue, increase speed and accuracy, and improve comfort. Others say they're more comfortable with standard, staggered keyboard layouts. The best way to tell if you prefer an ortholinear keyboard is to take one for a test run. If you don't like it, or you're simply looking for a way to improve comfort, speed, and accuracy, you can always choose a proven, high-performance mechanical keyboard instead.