UPDATE: picture added!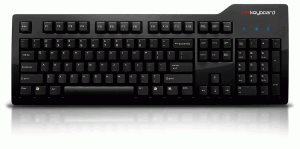 Hello Das Keyboard fans! Perhaps you've seen the flurry of twitter, blog, and other internet activity about the next version of the Das Keyboard, the "Model S," to finally make an appearance. As Community Manager, it's my distinct privilege to confirm that the rumors are true; Das Keyboard Model S is on the horizon and available now for pre-sale! You can read the official press release here.
The new Model S will be available in the Professional (lettered) and Ultimate (blank) models, just as with the last version.
To be clear, we're expecting the new models to be ready for shipment at the end of the month, but until we have them in our hands, we can't give specific dates.
Update: the Model S is available now to order and will ship at the end of October!
For now, I thought you might like to know a few tidbits about the new model. The new Model S is pretty similar in appearance to its predecessor, with a few upgrades:
Media Funtions! At long last you can control your computer with mute, volume, play/pause, stop, previous track, next track, and sleep funtions
Two USB connectors! One powers the keyboard and the other connects to the familiar built-in USB hub
External PS/2 Adapter! Now you have your choice between USB and PS/2
N-Key Rollover enhanced! PS/2 gives you FULL n-key rollover! USB provides 6-key rollover
KVM Switch Compatibility! No more KVM issues!
Laser-etched lettering on the DK-S Pro! No more letters wearing off from heavy use.
I promise to get some photos up as soon as I can. Stay tuned for more details regarding our enhanced product line. We've got at least one more very interesting addition that certainly promises to get your attention. Pre-order your Das Keyboard Model S here!
What do you think of the upgrades to this version? How'd we do?
UPDATE: we got some great comments and questions below. I've been able to answer some of them; please read through them for the answers and let us know if you have other comments or questions!