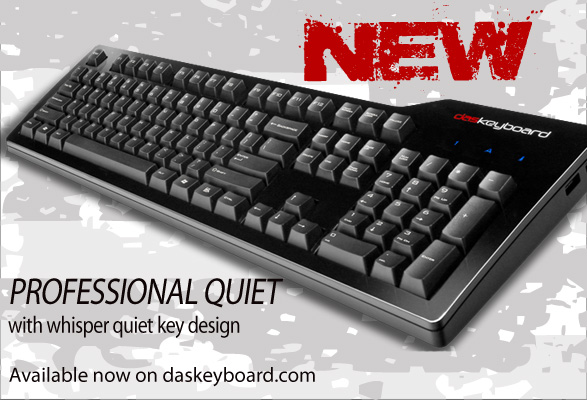 Shhhhh – We Just Launched Our New Quiet Mechanical Keyboard
Our new Professional Quiet version keyboard reduces audible feedback to a minimum while providing one of the best tactile experiences. The newest member of our Das Keyboard family sports Cherry MX Red key switches combined with a new quiet key design. It requires less force to actuate keys—45g instead of 55g to 60g for most keyboards—thereby providing a softer, more tactile and "whisper quiet" typing experience. This is the quiestest of the Das Keyboard range with a super awesome feel.
"Professionals who use modern communication tools like Skype, GoToMeeting, Google Hangout and other means to interact during the workday need a quiet keyboard during their calls to help reduce background noise and distractions," said Daniel Guermeur, creator of the Das Keyboard and CEO of Metadot Corporation. "People working in open space environments have expressed the same need. The growing demand for a keyboard that could deliver such an experience is what motivated us to design our newest product. The Das Keyboard Professional Quiet is the total package, delivering outstanding tactile feel and a whisper quiet typing experience."
The new quiet key design is not only, well, quiet, but also provides such an incredible tactile feel your fingers will think they are in finger heaven.
Now available on www.daskeyboard.com.