The Ultimate Typing Championship Kicks off with Over $10,000 in Prizes
Today registration opened for the Ultimate Typing Championship, the search for the fastest typist in the world! The online event is being presented and organized by Das Keyboard, initially launched in 2010. The National title is currently held by Sean Wrona, who won the tournament with a spectacular 163 WPM speed on long-form English text, setting an unofficial world record (in addition to a 124 WPM score on a long-form, non-standard English text).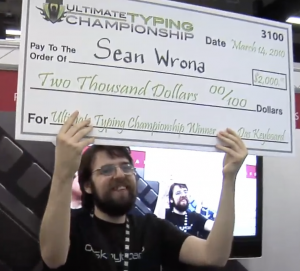 With the continued growth of competitive typing, the reboot of the Ultimate Typing Championship is being hosted completely online and has been expanded globally. Talented speed typists from around the world can now register to participate in the competition to see if they can topple the former Champion and earn a spot in history. The competition is being held on UltimateTypingChampionship.com where typists will compete for the fastest typing speeds on the competitive typing website, Typrx.com.
The top 25 qualifiers will be invited to compete for a spot in the live event that will be streamed on Twitch August 22nd, 2020 at 12:00 PM CST to compete in the championship.
Key dates for the event include:
Registration Opens: July 15th, 2020
Qualifications Open: August 3rd through August 9th, 2020
Live Championship: August 22nd, 2020 at 12:00 PM CST
The over $10,000 prize pool for the event includes $5,000 for the winner, $500 for the runner up, dozens of keyboards, keycaps, and more. Spectators will also have opportunities to win prizes during the live event.
To register for the competition or to sign up to receive updates on the event visit UltimateTypingChampionship.com, follow UTC on Twitter or become a fan of the Ultimate Typing Championship on Facebook.
For More Information: