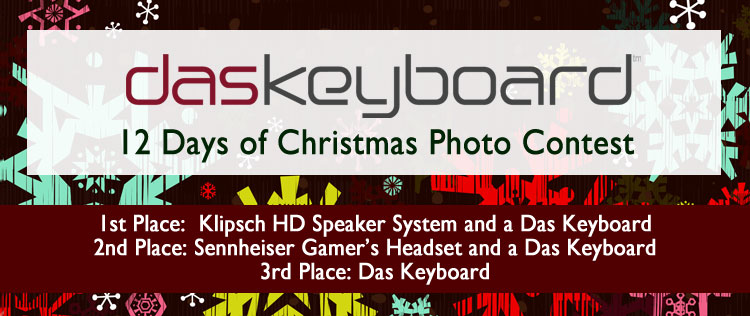 Christmas is almost here and in celebration, we're giving away over $1000 in gaming hardware.
To Enter:

Create a photo that best represents one of the 12 Days of Christmas.

Submit your photo on the

Christmas Photo Contest tab

on our Facebook page.

Ask your friends and family to

visit the Das Keyboard Facebook page

and vote for your photo. The three photos with the most votes win.
Don't remember each day from the song? Here's the list:
12 Drummers Drumming
11 Pipers Piping
10 Lords-a-Leaping
9 Ladies Dancing
8 Maids-a-Milking
7 Swans-a-Swimming
6 Geese-a-Laying
5 Gold Rings
4 Calling Birds
3 French Hens
2 Turtle Doves, and
A Partridge in a Pear Tree
We know it can be hard to find 7 swans or 12 drummers, so feel free to use photo editing software to make your photo the best it can be.
To win:
The photos with the most votes win. Visit the Das Keyboard Facebook page to vote for your favorite photos. If you enter, don't forget to have your friends and family vote for your photo to help you win. All entries and votes must be submitted by 12/20/2011. We'll tally the votes and announce the winners on our blog 12/22/2011. Contest limited to the US only.
Prizes:
Enter to win Das Keyboard's 12 Days of Christmas Photo Contest.