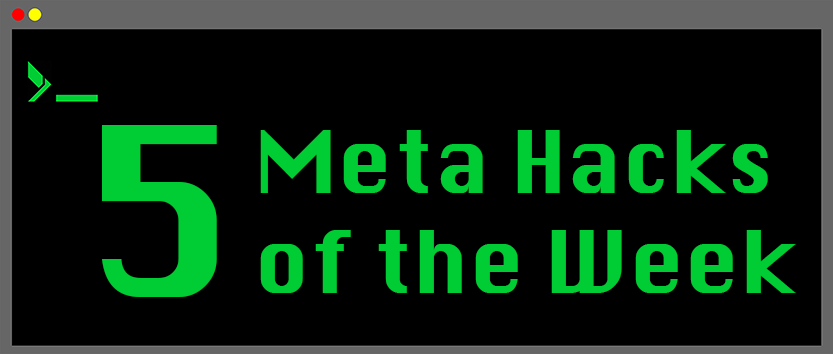 Want to see some of the best tips and hacks from around the Internet? That's what the 5 Meta Hacks of the week is all about! Below is last week's 5 Meta Hacks of the Week. If you want the newest Meta Hacks, you'll want to subscribe here. Every week, I'll send out an email, with the latest gems and useful tips I find from around the Internet. If you want to share your own, you can do so here and I'll select the best to share with everyone on the next 5 Meta Hacks of the Week.
Enjoy.
Daniel, Founder & CEO
Metadot / Das Keyboard / Mojo Helpdesk
_________
1. "There is no Planet B"
One of the most important statements of 2018 and maybe of the 21st century. Macron, the French president, received more than one standing ovation in his remarks to the US Congress on climate change.
2. What's so sexy about math?
In this survey of mathematical breakthroughs, Fields Medal winner Cédric Villani speaks to the thrill of discovery and details the sometimes perplexing life of a mathematician. "Beautiful mathematical explanations are not only for our pleasure," he says. "They change our vision of the world." (Contributed by Ahmed L.)
3. Joke of the Week
Speaking of math, here's a math joke.
Q: Why should you never talk to Pi?
A: Because he'll go on forever.
4. Less stuff, more happiness
Writer and designer Graham Hill asks: Can having less stuff, in less room, lead to more happiness? In this TED Talk, he makes the case for taking up less space, and lays out three rules for editing your life. (Contributed by Will T.)
5. Fit Men Cook
This website is full of great recipes that are great for meal prepping and eating a healthy diet. The accompanying app allows you to adjust portions and create an easy shopping list to take with you to the grocery store. Despite the title, not just for men.