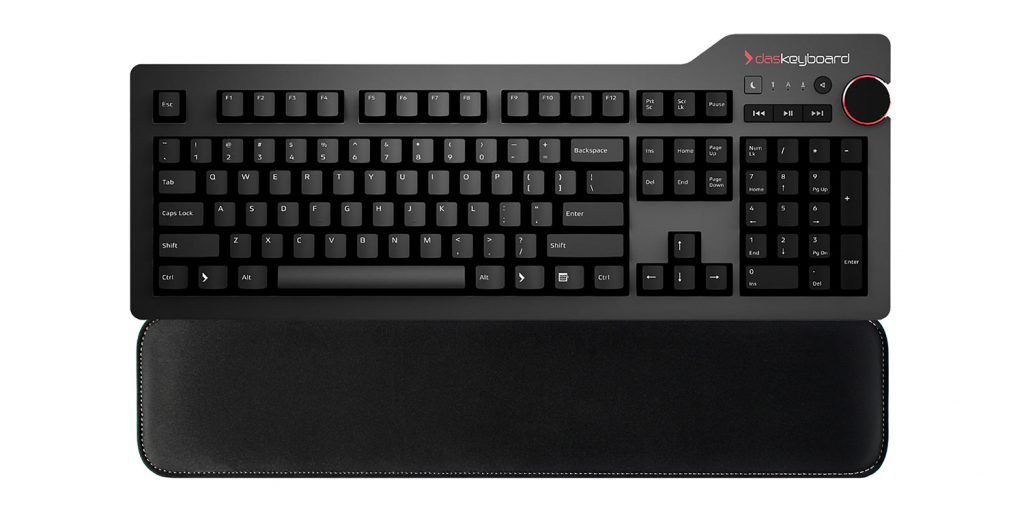 This sale has ended.
Das Keyboard has launched a bundle deal where customers can purchase the new Palm Rest One with any new keyboard and automatically receive $15 off, plus free shipping (within the Continental United States). The Palm Rest One was released earlier in the year and has been designed to work perfectly with any full-size Das Keyboard model (all except for the 4C TKL).
The Palm Rest one is the perfect height for Das Keyboard models and provides amazing comfort for keyboards that are raised by 0.80 inches from the desk, providing added comfort while typing. The bottom of the palm rest has a thick, non-slip surface and the covering has been designed for heavy use and easy cleaning (read more about how to clean a palm rest) with a microfiber cloth or damp rag.
For those that do not type with their palms and wrists suspended in the air, and prefer to rest them on a palm rest or desk, this combination may provide added comfort and stamina when typing for long periods.
While the Palm Rest One does fit all full-size Das Keyboard models, and most full-sized keyboards, the X50Q, and 5QS do include a removable palm rest that connects to the keyboard magnetically. The palm rest included, however, has a height of 0.5 inches vs. the Palm Rest One's height of 0.8 inches, allowing for a higher angle when typing on the keys of these keyboards which may be more comfortable for some people. In addition, the cloth covering of the Palm Rest One may be preferable to the silicone covering of the palm rest included with the X50Q, and 5QS.
Das Keyboard has launched this bundle promotion as a way to provide customers with everything they need to have the most enjoyable typing experience possible. Simply plug your new keyboard in, set the palm rest down, and begin typing in comfort immediately. The sale runs through Monday, June 27th, while supplies last.