How to Use Das Keyboard Q Software and Q Applets to Stay on Task and Become More Productive Throughout Your Day
An unnecessary amount of time is spent every day checking on little things and gathering basic information. Just think about all of the tasks that someone does each day, plus the number of disruptive notifications that come through a phone, smartwatch, email, and browser in an inefficient, repetitive flow of information. It has been proven that multitasking hurts productivity and that one needs to focus on a single task at a time, which doesn't even take into account the endless distractions that disrupt our work and focus from dinging phones, vibrating smartwatches, and notifications appearing on browser, further eroding efficiency and productivity.
Das Keyboard Q Software was created to help reduce disruptions and avoid multitasking while streamlining important information in a non-intrusive manner. The thought process behind Das Keyboard Q Software is that all you would need to do is look down at your keyboard to instantly have all the information that's important at your fingertips, like the control room for your daily life.
Das Keyboard Q Software contains numerous Q Applets, which cause your keyboard to light up to display information on your keyboard, or when you have a notification from an applet. Below are some of the top ways anyone can use Q Applets to help organize information efficiently in everyday life with Das Keyboard Q Software. (Also, see how a developer uses Das Keyboard Q Software in this article by Das Keyboard CEO Daniel Guermeur.)
Gmail: If you receive Gmail notifications on a smartphone, smartwatch, and computer then you may receive three notifications for every single email that goes to your inbox. This bombardment of notifications is not efficient or useful and may cause important emails to go unread in a timely manner due to the overwhelming number of notifications. It's easy to streamline this process with the Gmail Q applet, which allows you to set a passive notification on your keyboard, which will display an RGB notification on a key when an email from a priority sender arrives. Instead of being a slave to your email and constantly monitoring your inbox, just look down to see if there's anything important to address.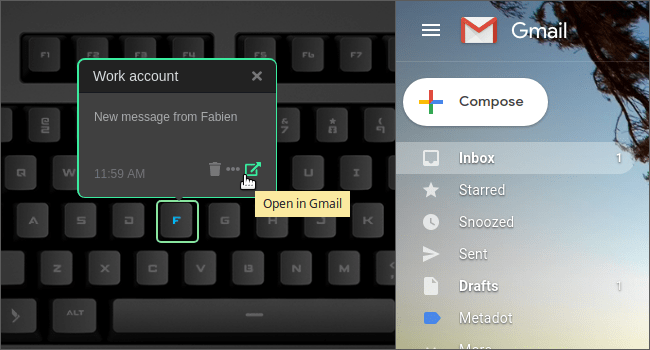 Weather USA and Weather International: Install this Q Applet and you will never have to look up the weather on your phone, computer, or the local news again. Change your daily routine of waking up and checking on the forecast for the day, or stopping what you're doing to see if the weather will hold up for your plans tomorrow. Simply look down at your keyboard and the assigned RGB color-coded keys will give you the information you need for any location you want to monitor.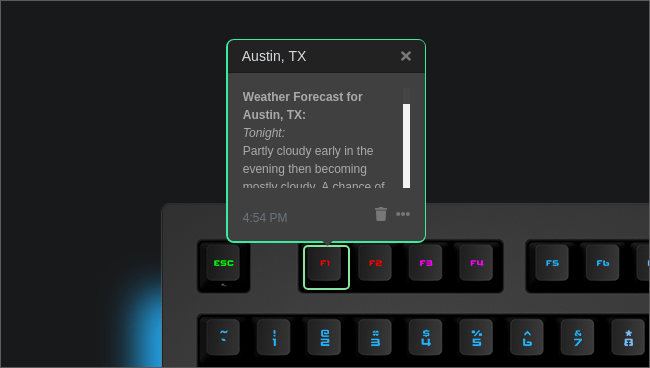 Stock Quotes: The Stock Quotes Q Applet eliminates the need to constantly monitor stocks throughout the day, instead, just set them to display red or green on the number pad of a Q series keyboard. When investing in long positions, it is a waste of time to constantly monitor stocks by looking them up on your phone, or on your computer. With the Stock Quotes Q applet, you can look down at your keyboard to see if a stock is up or down, saving time while delivering the information you care about, so you can keep working without becoming overly distracted.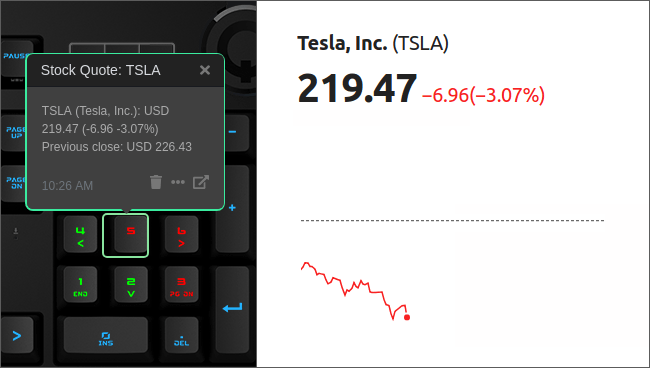 Parcel Tracker: For those who want to know what the status of a shipment is, but don't want to have to constantly search and refresh updates, using the Parcel Tracker Q applet can save time and streamline this information on your keyboard. Quickly bring up the status of your shipment with the push of a key, or just look at the keyboard's keys which will display a progress bar to constantly monitor the delivery progress of a shipment in the background.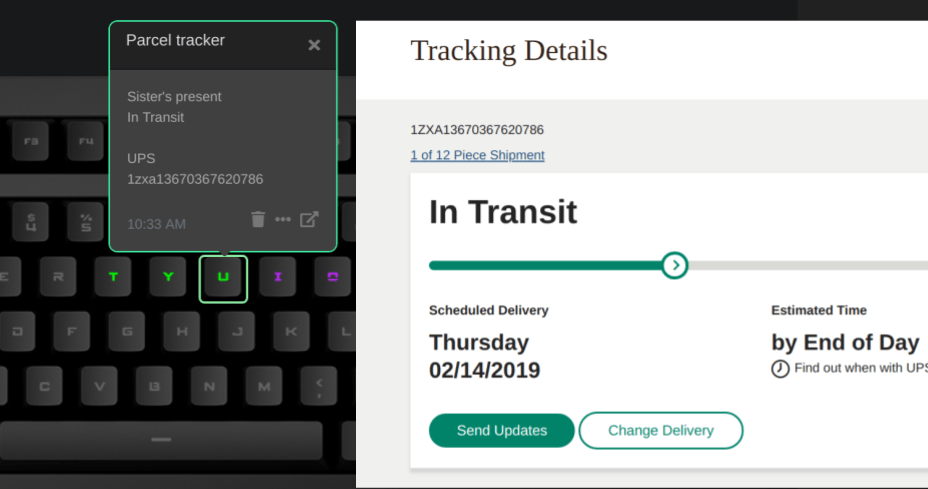 CPU Usage: For those that run large or multiple programs, knowing the CPU usage of their machine is quite helpful. If programs ever run slow or crash, this is a great tool to help discover if it is a CPU usage issue. Instead of having to open up your Task Manager or Activity Monitor every day, and then stop what you are doing to check your CPU usage, you can use this Q applet to display the percentage of the CPU used in a bar graph.

Crypto Watch: Much like the Stock Quotes Q Applet, the Crypto Watch Q Applet is perfect for those that have long-term investments in cryptocurrencies. If you find yourself constantly looking up the price of Bitcoin, Litecoin, or Ethereum, then you're probably spending too much time on something that is purely speculative. Valuable time can be saved by installing this Q applet, all without losing the information of knowing if a cryptocurrency is up or down.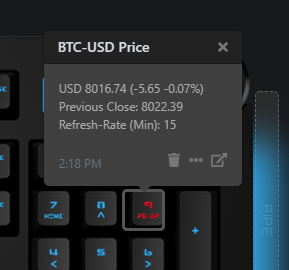 Flight Price Watcher: Something that can take up a lot of your time is booking a reasonably priced flight for a trip you are planning to take. Whether you book a lot of flights for work, or if you're looking for a good deal on a vacation, this can be time-consuming as flight prices fluctuate daily if not hourly. With the Flight Price Watcher Q Applet, you can simply set it, and forget it. Just look down at your Q series keyboard and you can see if the price of your flight is where you want it.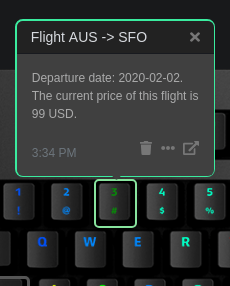 Birthday Reminder: If you've ever forgotten a friend or family member's birthday then you know it does not feel good. You could try to add it to your daily calendar, but with so many meetings and calendar reminders, but that is only going to show you the day of the birthday, which won't give you enough time to prepare. With the Birthday Reminder Q applet, the selected key will progressively change from green to blinking red as the birthday date approaches, giving you plenty of time to prepare and not feel guilty for forgetting again.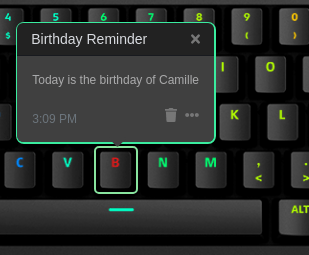 H2O Reminder: Drinking an adequate amount of water has excellent health benefits. If you don't drink six to eight glasses of water you are susceptible to a weakened immune system, fatigue, headache, and dry skin, but if you're not already in the habit of drinking a lot of water throughout the day, it can be a difficult routine to adopt. This is why the H2O reminder app is a great way to give you a constant reminder to drink water every hour so you stay hydrated and healthy.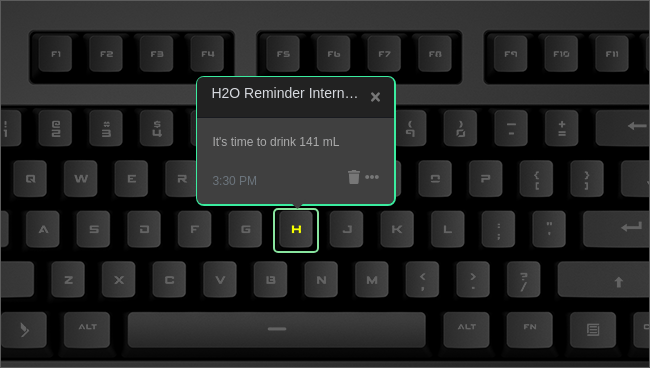 Stand up Reminder: Sitting at a desk all day without standing has shown to be linked to several health concerns and has shown to be one of the leading causes for numerous health conditions, including increased blood pressure, high blood sugar, excess body fat, abnormal cholesterol levels, and more. According to the Mayo Clinic, taking a break from sitting every 30 minutes can help tremendously, which is why the Stand Up Reminder Q Applet is an important Q applet to round out our list. Stay healthy by remembering to stand up every 15 to 30 minutes, and let these reminders become part of your daily routine.
Streamlining information efficiently to improve your productivity is easy with the use of these Q applets. Setting notifications to appear on your keyboard instantly eliminates the constant barrage of disruptions and distractions throughout the day and turns your keyboard into your control room. With a quick look at your Q keyboard, you can see where stock and crypto prices are, what the weather will be like for the next few days if you have an important email, daily reminders to help your health and well being, and even reminders for important birthdays you don't want to miss. By turning off all of the notifications on your phone, watch, and browser, you can get your day back and have more time to focus on the things that matter.
For more info, visit Das Keyboard Q Software.  
Das Keyboard Q Software works with Q Series keyboards: